CBD Balm Reviews
Read our comprehensive CBD balm reviews written by our dermatology editorial team and discover which hemp balm is best for your needs.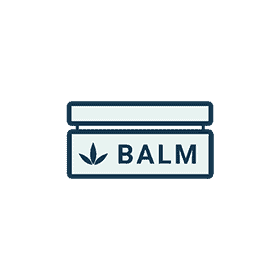 CBD Balm Frequently Asked Questions
What is CBD Balm?
A CBD balm is a mixture of Beeswax and CBD infused together. Balms are the hardest-textured CBD topical because of the high ratio of beeswax used as the base ingredient in the balm. Most CBD balms also have other soothing ingredients added such as peppermint, tea tree, and eucalyptus oil
How does CBD Balm work?
Topical CBD products work locally on specific parts of the body, potentially helping soothe pain on areas such as joints or particular muscles. CBD gets absorbed by the CBD receptors which are located in under the skin
What is CBD Balm used for?
CBD Balm is used to help relieve soreness, inflammation, and discomfort. CBD Balm has a hard texture, so it takes longer to absorb into the skin. With this texture, the balm should provide relief over a longer period of time than some other topicals with thinner textures
How to apply CBD Balm
– Apply the CBD Balm in the amount indicated on the bottle to the affected area.
– Rub the Balm into your skin gently. 
– Follow the instructions on the back of the jar regarding how many times you should apply the Balm.
How long does it take CBD Balm to work?
Depending on the strength of the CBD used in the Balm, and how thick the textture of the balm is it should take effect 15 to 45 minutes after applying affected area.
CBD Balms vs. Other CBD Topicals
CBD Balms usually have the thickest texture of all CBD topicals. A thick CBD balm is made in order for the CBD to absorb slowly into the skin and act like a slow-release pain reliever.
Does CBD Balm have side effects?
Topically applied CBD Balm generally has no adverse reactions. Contact a dermatologist right away if you experience skin irritation, a rash, or allergy symptoms.
How do you use CBD balm for pain?
CBD Balm is applied to the affected area where there is localized pain. Because CBD balm has a thick texture, you may have to warm it with your hands before applying. For instructions on how much and how often to apply the balm to the affected area, check the instructions on the back of the jar.
Does CBD balm work for pain?
CBD balm can help alleviate pain and inflammation in specific body parts, like joints.  Evidence suggests that the CBD in CBD Topicals reduces inflammation and pain by affecting the body's endocannabinoids located in under the skin.