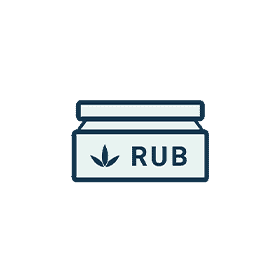 CBD Rub Frequently Asked Questions
What is CBD Rub?
A CBD Rub is a term used to describe a CBD Salve or CBD Balm. CBD salves and balms have a thicker texture than other CBD Topicals, and they must be rubbed into the skin. This additional rubbing action is why the term CBD Rub is used. 
How does CBD Rub work?
Just like other CBD Topicals, CBD Rubs are applied to the skin. It is believed that the CBD interacts with skin receptors that regulate pain and inflammation.
What is CBD Rub used for?
Because CBD Rubs are stiff, they don't spread well on the skin. Rubs are best for applying to smaller areas of your body. CBD Rubs are more likely to take longer to absorb into the skin due to their thick consistency. As a result, slower absorption also causes a slow release of CBD, which is effective in delivering longer lasting relief.
How to apply CBD Rub on your skin?
1. Make sure you read the manufacturers directions on the back of the jar of the rub.
2. Cleanse and pat dry the area of your body you feel would benefit from the rub.
3. Apply the amount indicated on jar.
4. Vigorously rub the CBD rub onto the affected area.
How long does it take CBD Rub to work?
Rub texture, CBD strength and quality dictate how long a rub takes to work. A CBD rub will take longer to begin working because it is slow absorbing. After applying, you should see effects within 45 minutes.