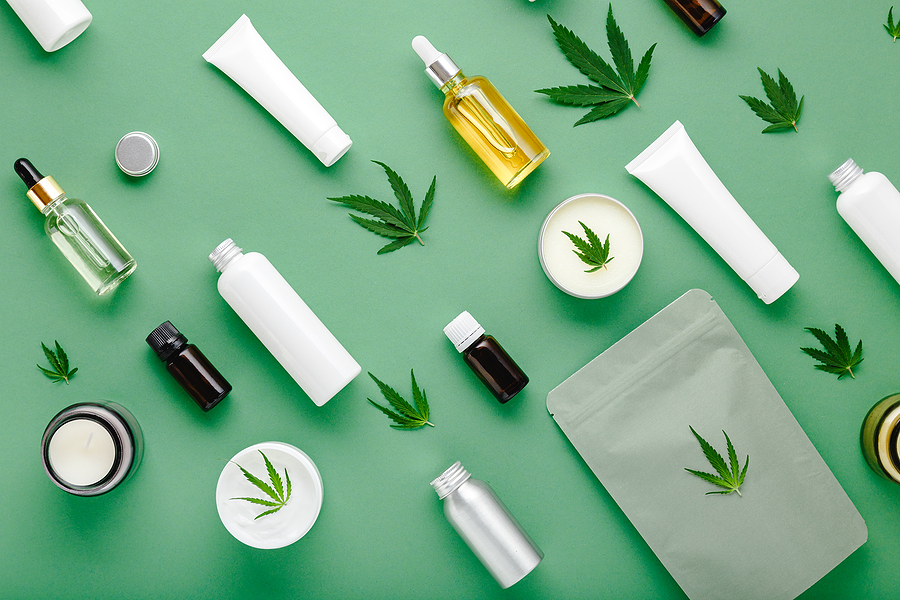 Overview
CBD is being blended into a wide range of skincare products, including facial cleansers and moisturizers, face masks, sunscreen, lip balms, and more.
If you're wondering what this new trend in beauty skincare is all about and if CBD-infused skincare products work, then this section is for you.
Many products in the skincare industry claim to have anti-inflammatory, anti-oil, hydration, and antioxidant properties that are beneficial when applied to the skin.
CBD has been found in studies to have the same antioxidant,anti-inflammatory, hydration, and anti-sebum benefits when applied to the skin.
So it is not surprising to see a natural ingredient like CBD being incorporated into different skincare products.
Let's explore the benefits of CBD for the skin in more detail.
Benefits of CBD On The Skin
Skin inflammation: CBD anti- inflammatory properties may have skin conditions where inflammation is a contributing factor. 1
Skin Hydration: CBD has moisturizing properties that can help hydrate the skin. 2
Skin Oil Production: CBD effects sebocytes, which produce oily sebum in the skin pores, reducing acne and other sebum-related skin conditions.3
Skin Conditions: CBD helps reduce irritation and inflammation that are associated with eczema,dermatitis and other skin conditions.
Now we know why CBD is being used in skincare products, let's look at the different types of skin care products that have CBD in them.
Types of CBD Skincare Products
CBD Moisturizers
CBD Face Masks
CBD Lips Balms
CBD Sunscreen
CBD Face Oil
CBD Serum
Cbd Anti Wrinkle Cream
CBD Moisturizers
CBD moisturizers are CBD infused creams and lotions that are less potent than topical products that are used to treat topical pain. The purpose of CBD Moisturizer is to hydrate and moisturize the skin to make it look more healthy and to prevent skin problems. If you want to moisturize your skin or body, CBD Lotions are usually the best choice. A lotion has a thinner texture than a cream or balm, which allows it to be spread over a wider area of skin.
CBD Lip Balms
Lip skin is thinner than skin on your face. If you suffer from chapped or dry lips, applying lip balm will ensure that your lips are hydrated and they will heal more quickly. A lip balm containing CBD should also have hydration and anti-inflammatory properties to speed up the healing process.
CBD Sunscreen
In CBD sunscreen, two products are merged into one for added protection against the sun. CBD sunscreen is a blend of traditional sunscreen and CBD. As the sunscreen prevents harmful UV rays, the addition of CBD eases inflammation discomfort and irritation caused by sun exposure.
CBD Face Masks
CBD face masks contain, you guessed it, CBD! Face masks are to improve the skin's health. Adding CBD to facial masks aims to benefit from CBD's anti-inflammatory properties, preventing skin dryness, and helping with itchy skin.
CBD Face Oil
Face Oil locks in moisture to keep everything soft and hydrated below the skin to make the skin look radiant looking. Cbd-infused face oils have anti-inflammatory properties and hydrate the skin to promote a healthier, more youthful appearance.
CBD Serum
CBD serums deliver the benefits of CBD with other skin serum ingredients like vitamin C, vitamin E, ferulic acid, green tea, resveratrol, and astaxanthin to help prevent oxidative damage to the skin.
CBD Anti Wrinkle Creams
CBD anti-wrinkle creams contain common ingredients such as retinoids, peptides, and niacinamide found in wrinkle creams as well as CBD. Combining these ingredients should reduce the appearance of fine lines and wrinkles as well as increase skin firmness and elasticity
How to Apply CBD Skincare Products
All CBD skin care products will include application instructions. Please follow those instructions carefully. You should also test the product on a small area of your skin beforehand to ensure you don't experience skin irritation or reactions.
Side Effects of CBD On The Skin
Even though more studies need to be done on side effects, current research suggests CBD has no side effects when applied topically. Usually when skin irritation happens, it's because of another ingredient in the product. That's why it's important to pick a CBD skincare product with the bare minimum ingredients. Read the ingredients before buying anything CBD-based. If you don't know what's wrong with your skin, seek help. Before using anything to treat a skin condition, always talk to a dermatologist.