AFFILIATE DISCLOSURE: If you buy through the links on this page, CBD Cream Advisor DOES NOT earn an affiliate commission. CBD companies cannot buy influence over how we rate their CBD Topicals. Learn how we earn and how our unbiased review process of over 180+ CBD topicals works.
Aspen Green Brand Reputation
Aspen Green the manufacturer that makes Pain Relief Body Balm has been creating cbd balm since 2018. FDA has not issued any warning letters to Aspen Green. Buying Pain Relief Body Balm from Aspen Green has a money back guarantee.
Brand Reputation of Aspen Green
Company Name
Aspen Green
Year Established
2018
Reputation
3 customer reviews
Lab testing
Tested by Lab Botanacor
COA (Certificate of Analysis )
Yes
FDA Approved
No
Guarantee & Deliverability of Aspen Green
Refund Policy
No information
Ships From
US
Ships To
US
Delivery
3-7 days
Review Highlights: Aspen Green Balm

Full Review
Review Highlights: Aspen Green Balm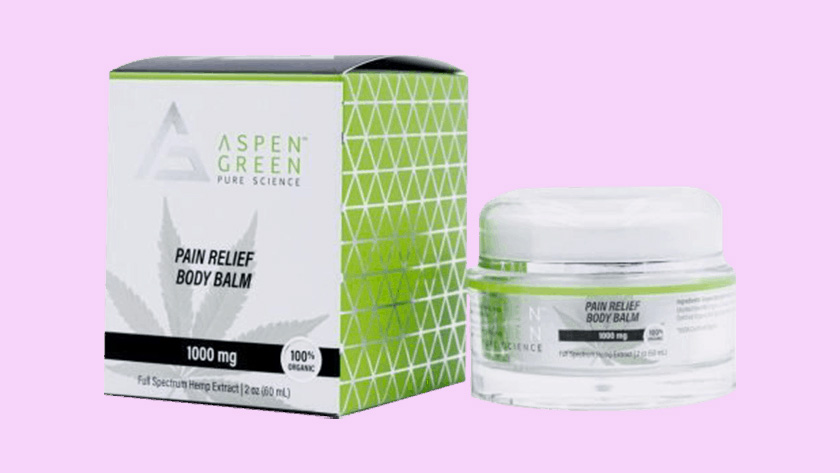 Quantity of Aspen Green CBD Balm
Amount of CBD in Jar
60ml
Percentage of CBD in Jar
16.67%
Percentage of Other ingredients
83.33%
Percentage of THC in Jar
under 0.3%
Cost Breakdown of Aspen Green CBD Balm
CBD Product Price
$90.00
Jar Size
60 ml
Cost of CBD per Milliliter
$0.09 per ml
Product Characteristics of Aspen Green CBD Balm
Scent
Strong Hemp Aroma
Hemp source
US
(CBD) Strength
1000mg
Texture
Medium
Decision Making Factors
| Key Factors of Aspen Green CBD Balm | Our Rating |
| --- | --- |
| CBD Strength | VERY GOOD |
| CBD Quality | VERY GOOD |
| Independently Tested | EXCELLENT |
| For Pain | VERY GOOD |
| For Skin Conditions | VERY GOOD |
| For General Skin Care | VERY GOOD |
| Guarantee | VERY GOOD |
| Value For Money | GOOD |
Full Review
Aspen Green's Pain Relief Body Balm contains 1000 MG USDA Certified Organic Full Spectrum Hemp Extract (aerial parts), of which 650 MG is Cannabidiol (CBD) approximately. inIt also has other phytocannabinoids that include THC (under .3 percent), CBDA, CBG, CBN, and CBC. For those that seriously consider pain relief, the company claims that this full-body soothing balm provides infused alleviation from chronic pain. The ointment claims to provide relief from idiopathic arthritis, low back, pelvic, quad, knee, hand, and foot pain. It contains a unique blend of essential cannabinoids and therapeutic botanicals that delivers a full hemp plant's strength. The balm also contains emollients from the organic seeds that deeply penetrate and provide natural, intense relief. The o claims to treat joint, bone, and ligament pain. This balm can be applied to the pelvic region to ease menstrual cramps.The body balm is infused with mango butter that reduces aging signs while making the skin brighter and softer. Jojoba seed oil in the skin can help minimize skin ailments like psoriasis, eczema, and acne. This balm claims to work as a moisturizer and cleanser. Beeswax in the cream keeps fighting skin irritants and inflammation.
The body balm is infused with terpenes like caryophyllene and bisabolol, which can fight against redness and inflammation. Eucalyptol in the ointment can fight redness and inflammation. Limonene present in the ointment is rich in antioxidants and calms the skin. Terpinolene and P-Cymene fight fungi and skin infections, while pinene, ocimene, and myrcene can fight inflammation.
Findings: Pain Relief Body Balm
Potency
The pain relief balm contains 1000 MG full-spectrum hemp (650 MG CBD)
Hemp Cultivation
The pain relief balm contains USDA Certified Organic Full Spectrum extract from whole Hemp plants grown, harvested, and processed at the company's sustainable and organic Colorado farms. These plants are grown with strict federal guidelines that govern weed control, soil quality, additives, and pest.
Smell
The pain relief balm has a strong hemp aroma.
Customer Ratings
Aspen Green's Pain Relief Body Balm has three reviews on the official website with an average rating of 5 stars out of 5.
Cost
We are using several of their products ,and love them all. Worth every penny.
Independent Testing
The 2 oz/60 ml (1000 mg CBD) bottle of the balm is priced at $90 on the company website.
Ingredients
The balm contains Organic Full Spectrum Hemp Extract, Organic Cera Alba (Beeswax), Organic Cannabis Sativa (Hemp) Seed Oil, Organic Simmondsia Chinensis (Jojoba) Seed Oil, and Organic Mangifera Indica (Mango) Kernel Butter. It also contains terpenes that include: Myrcene (citrus cloves), Linalool (floral), Limonene (bitter citrus), Humulene (earthy), Eucalyptol (mint), Caryophyllene (spicy), and Bisabolol (floral).
How to Apply Pain Relief Body Balm?
Open the lid of the jar.
Scoop out a pea-size amount of the balm.
Massage the balm firmly into the skin and add more as required.
Store in a cool and dry place after use.
What does the 3rd Party Testing & Lab Results Reveal?
Company Details
About Aspen Green
Aspen Green is a USDA-Certified Organic CBD company with its headquarters in Denver, Colorado, USA. It was founded in the year 2018. The company makes high-performing topical for overall health, muscles, joints, and skin by filtering, extracting, processing the CBD and hemp. Their formula in the topical is designed to magnify THC's benefits keeping aside its psychoactive effects. The Aspen Green topicals are available across all the states in the USA. They can be ordered online as well as purchased offline through retailers. Call on +1 888 578 5900 or email at [email protected].
Location
The company is headquartered in Denver, Colorado, USA.
Guarantee
Aspen Green's Pain Relief Body Balm comes with a 60-day customer satisfaction guarantee.
CBD Extraction Method
The company uses ethanol to extract cannabidiol.
Quality of Customer Support
Customers can contact customer care through the Contact Us Page on the website, a call on +1 888 578 5900 Monday – Friday: 9 am – 5 pm MST or email at [email protected].
Shipping Options
The company currently ships inside the United States. All orders placed by 5 pm MT will be shipped by the end of the next business day (excluding holidays, etc.) via UPS ground from Colorado. Delivery will take up to 3-7 days, depending on the location. Priority shipping is UPS 2-day shipping.