CBD Body Butter Reviews
CBD Body butter product reviews that are written by our dermatology editorial team to help you find the right hemp body butter for you.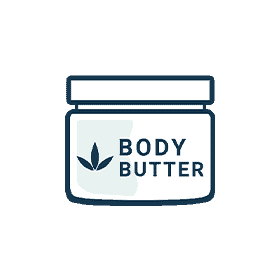 CBD Body Butter Frequently Asked Questions
What is CBD Body Butter?
CBD Body Butter is a topical product that contains coconut oil or shea butter as its base ingredient. 
How does CBD Body Butter work?
A CBD Body Butter is a high fat topical product that helps to retain moisture, hydrate and nourish your skin. Its high fat content helps bind the CBD to your skin for a longer period of time to help your skin absorbs more of the CBD.
What is CBD Body Butter used for?
CBD Body Butters are a fast-growing, new way to apply CBD topically to your skin. CBD Body Butter is predominantly used for skincare since it contains powerful moisturizing and hydrating ingredients. CBD body butters with high doses of CBD are also used to treat inflammation and pain. 
CBD Butter Skincare Benefits
Lets look more closely at the potential skincare benefits of using a CBD butter. Based on studies.
– CBD helps regulate oil production: Excess sebum is thought to contribute to acne. 
– CBD helps reduce inflammation: CBD can act as an anti-inflammatory, reducing swelling, pain, and redness associated with breakouts, and irritation caused by various CBD skin disorders.
– Skin Scarring: CBD may improve scarring according to one study of scar tissue patients.
– CBD helps with skin disorders: Skin disorders can be cause by a skin imbalance or inflammatory elements in the cream
How to apply CBD Body Butter on your skin?
1. Make sure you follow the application instructions on the CBD Body Butter jar.
2. Apply the CBD Body Butter to the affected area in the amount indicated on the back of the jar.
3. Let the CBD Body Butter absorb into the skin by rubbing it into the affected area. 
4. You should apply the CBD Body Butter as many times as indicated on the back of the bottle
How long does it take CBD body butter to work?
CBD Body butter has a thick consistency, so it will take a bit longer than CBD creams to absorb. After applying, you should feel the effects 45-60 minutes later.
CBD Body Butter vs. Other CBD Topicals?
CBD body butters are different from other CBD topicals because the base of the topical is made from shea butter or coconut oil is. Other CBD topicals are made from olive oil, beeswax, or water-based moisturizing ingredients.
Does CBD Butter have side effects?
CBD is well tolerated on the skin and has minimal side effects. Due to the oily texture of shea butter, a small amount of people may experience acne breakouts.