Brand Reputation
SolCBD the business that makes CBD Infused Herbal Balm has been producing cbd balm since 2015. The Food and Drug Administration (FDA) has not issued any warning letters to SolCBD. If you are unhappy with CBD Infused Herbal Balm, SolCBD will refund your money.
CBD Brand Reputation & Transparency
Company Name
SolCBD
Year Established
2015
Reputation
241 customer reviews
Lab testing
Tested by Botanicor Labs
COA (Certificate of Analysis )
Yes
FDA Approved
No
Review Highlights: Sol CBD Balm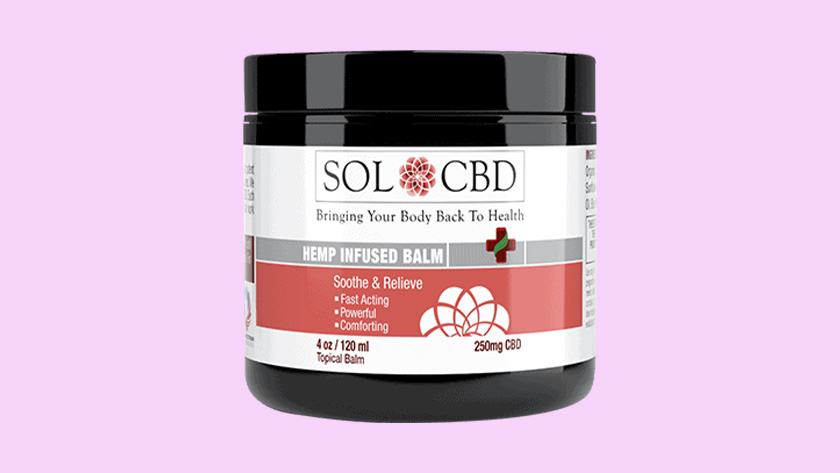 Quantity Of CBD In This Jar
Amount of CBD in Jar
4oz
Percentage of CBD in Jar
2.12%
Percentage of Other ingredients
97.88%
Percentage of THC in Jar
THC-free
Cost of CBD In This Jar
CBD Product Price
$51.00
Jar Size
4oz
Cost of CBD per Milliliter
$0.20 per ml
Notable Product Characteristics
Scent
Eucalyptus
Hemp source
US
(CBD) Strength
250mg
Texture
Medium
Decision Making Factors
| Key Factor | Rating |
| --- | --- |
| CBD Strength | AVERAGE |
| CBD Quality | VERY GOOD |
| Independently Tested | GOOD |
| For Pain | AVERAGE |
| For Skin Conditions | GOOD |
| For General Skin Care | GOOD |
| Guarantee | VERY GOOD |
| Value For Money | GOOD |
Full Review
The herbal CBD balm is said to be a fast-acting, powerful, and comforting thick cream. It claims to provide relief from muscle and joint pains. It contains extracts from 12 herbs that work to soothe the topical pain and allow users to lead happy lives.
The balm penetrates deep into the skin to deliver the desired result. It is THC-free and has been lab-tested.
Findings: Sol CBD Herbal Balm
Potency
The balm contains 250mg of CBD.
Hemp Cultivation
The balm is made using full spectrum CBD.
Smell
The balm smells like eucalyptus.
Customer Ratings
There are 241 customer reviews on the company website. 210 customers rated the product 5 stars, while 25 customers rated it 4 stars. The lowest rating for the product is 3 stars given by 6 customers. The average rating is 4.8 stars.
Cost
Each jar of the herbal balm is priced at $49 (for 4 oz). Customers who subscribe can get the product for $44.10 (at a 10% discount). Customers can buy a pack of two jars for $93 and a pack of three jars for $129. The subscribers' discount applies here as well.
Independent Testing
The product has been tested by independent third-party labs.
Ingredients
The balm is made using full spectrum CBD oil, and 12 powerful herbal extractions- grapeseed oil, virgin ucuuba butter, virgin andiroba oil, lemon peel oil, organic rosemary extract, organic sunflower seed oil, nerolidol, wintergreen oil, organic calendula flower extract, blue mallee eucalyptus oil, candelilla wax, and copaiba oil.
How to Apply Sol CBD Herbal Balm?
Clean and dry the skin before applying the balm
Massage a desired amount of the balm into the skin until it is absorbed
Reapply as needed
The balm is meant for external use only
Do not use on broken skin, open wounds, cuts, and bruises
What does the 3rd Party Testing & Lab Results Reveal?
The company gets the products tested by Botanicor Labs, Denver, CO.
An image of the lab report is available on the individual product webpage.
The product passes the US and European limits for THC as it contains 0.00% THC.
Find the lab report in the images or by clicking the 'Test Results' option on this page:
https://www.solcbd.com/products/maximum-strength-soothing-herbal-cbd-balm
Company Details
About SolCBD
Sol CBD is a family-owned business founded in 2015. It is committed to providing quality CBD products and customer service in the US markets. The products are available for purchase through the company website. The founders believe in integrity, transparency, and honesty. Contact: https://www.solcbd.com/pages/contact or [email protected]
Location
The company headquarters is located in Lad Vegas, NV.
Guarantee
The company offers a 60-day money-back guarantee (from the date of purchase). Customers do not have to send the used product to the company. The refund will be processed.
However, they do have to send the unused products back. For damaged products, customers must claim within 72 hours after receiving the order.
CBD Extraction Method
The company uses the CO2 extraction method to derive CBD oil from hemp.
Quality of Customer Support
Customers can contact customer support via email, phone, contact us page on the company website, and live chat. The live chat is friendly and helpful.
Shipping Options
The company uses USPS shipping services to deliver orders. The delivery time is 1-4 business days and might be extended to 7 business days (for Hawaii). The orders are shipped from Michigan. The flat rate for shipping is $5.95. The company offers free shipping for all orders over $85. The company doesn't ship outside of the USA.
Guarantee & Deliverability
Refund Policy
60 Days
Ships From
US
Ships To
US
Delivery
4-7 Business Days