AFFILIATE DISCLOSURE: If you buy through the links on this page, CBD Cream Advisor DOES NOT earn an affiliate commission. CBD companies cannot buy influence over how we rate their CBD Topicals. Learn how we earn and how our unbiased review process of over 180+ CBD topicals works.
Pure Medicanna Brand Reputation
Pure MediCanna the brand that makes Ultra Strength CBD Healing Salve has been manufacturing cbd salve since 2016. FDA has not issued any warning letters to Pure MediCanna. Buying Ultra Strength CBD Healing Salve from Pure MediCanna has a money back guarantee.
Brand Reputation of Pure MediCanna
Company Name
Pure MediCanna
Year Established
2016
Reputation
2 customer reviews
Lab testing
Tested by CannaSafe
COA (Certificate of Analysis )
Yes
FDA Approved
No
Guarantee & Deliverability of Pure MediCanna
Refund Policy
30 Days
Ships From
US
Ships To
US
Delivery
2-5 Business Days
Review Highlights: Pure Medicanna Salve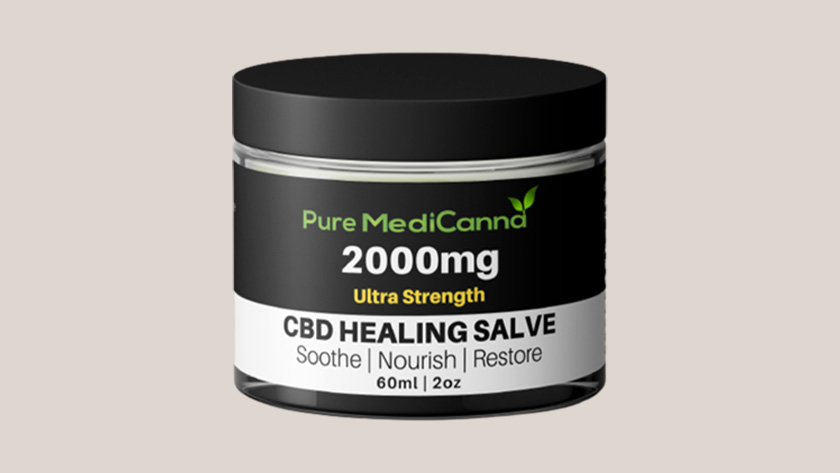 Quantity of Pure MediCanna CBD Salve
Amount of CBD in Jar
2oz
Percentage of CBD in Jar
33.33%
Percentage of Other ingredients
66.37%
Percentage of THC in Jar
less than 0.3%
Cost Breakdown of Pure MediCanna CBD Salve
CBD Product Price
$89.99
Jar Size
2oz
Cost of CBD per Milliliter
$0.04 per ml
Product Characteristics of Pure MediCanna CBD Salve
Scent
Lavender
Hemp source
US
(CBD) Strength
2000mg
Texture
Medium
Decision Making Factors
| Key Factors of Pure MediCanna CBD Salve | Our Rating |
| --- | --- |
| CBD Strength | EXCELLENT |
| CBD Quality | VERY GOOD |
| Independently Tested | GOOD |
| For Pain | VERY GOOD |
| For Skin Conditions | VERY GOOD |
| For General Skin Care | VERY GOOD |
| Guarantee | VERY GOOD |
| Value For Money | GOOD |
Full Review
The Pure MediCanna 2000mg Ultra Strength CBD Healing Salve claims to provide instant relief from muscle and joint pains, arthritis, fibromyalgia, hives, psoriasis, cramps, and much more. The salve has a rich and smooth consistency that penetrates deep in the skin to provide fast relief from pain. The CBD salve is made using organic hemp extract and natural ingredients. It is vegan-friendly, paraben-free, cruelty-free, GMO-free, and is made in the US. The salve claims to provide therapeutic relief from body pains and moisturize the skin. It has three benefits- soothing, nourishing, and restoring. The salve has less than 0.3% THC and is free of petroleum, sulfates, and phlalates.
Findings: Pure MediCanna Ultra Strength CBD Healing Salve
Potency
Each jar contains 2000mg of CBD.
Hemp Cultivation
The salve is made using full-spectrum CBD oil extracted from hemp grown in Colorado, USA.
Smell?
The salve contains lavender essential oil, natural vanilla extract, and shea butter.
Customer Ratings
The company website has two customer reviews. Both customers have rated the salve 5 stars.
Cost
Each jar is priced at $89.99 for 2 oz (60 ml) of CBD healing salve.
Independent Testing
The company gets the products tested by two independent third-party labs.
Ingredients
The CBD healing salve is made using full-spectrum CBD oil, coconut oil, almond oil, beeswax, lavender essential oil, shea butter, natural vanilla extract, and other ingredients.
How to Apply Pure MediCanna Ultra Strength CBD Healing Salve?
Take a liberal quantity of the salve
Apply and massage gently to the affected area
Reuse the salve as many times as needed per day
Avoid contact with eyes and nose
The salve should only be used externally
What does the 3rd Party Testing & Lab Results Reveal?
The company gets the products tested by CannaSafe and ProVerde Laboratories.
We could not find the batch number of the product on the company website.
The product passes the US and European limits for THC as it contains less than 0.3% THC.
Find the lab reports here: https://puremedicanna.com/pages/3rd-party-lab-tests
Customers can access lab reports by scanning the QR code on the product.
Company Details
About Pure MediCanna
Pude MediCanna was started in 2016 by two brothers who experienced the magic of CBD in the wellness industry. The company offers a range of CBD products that can be purchased within and outside the US. The company's HQ is located in Camarillo, California, US. Contact: https://puremedicanna.com/pages/contact-us or [email protected] or 800-482-2660.
Location
The company is located at 758 Calle Plano. Camarillo, CA 93012.
Guarantee
The company has a refund policy of 30 days for customers who aren't fully satisfied with the products they bought. Contact [email protected] within 30 days of purchase and include name, phone number, and order number in the email. The company takes 5-10 days to complete the refund transaction.
CBD Extraction Method
The extraction process is not mentioned on the company website.
Quality of Customer Support
You can get in touch with the customer service department by telephone or email. There is a fast-email option on the company website (similar to a chatbox).
Shipping Options
This company ships to all 50 states in the US and offers free shipping on all US orders. It takes 2 business days for processing and up to 5 business days to deliver the orders. Orders placed before 4 pm PST are shipped on the same business day. The company uses UPS for shipping.
The company sells the products through the website, retailers, doctors, chiropractors, dispensaries, etc. Customers can also call (800) 482-2660 and place an order.
The company also sells its CBD products in other countries. Customers are recommended to use a customs broker (and insure the order) for the transactions.