Physicians Grade sells various CBD products in the US. The company has two CBD topical- cream, and roll-on that claim to provide relief from body pains and inflammation. The products can be used before, during, or after a workout session. The CBD products are cruelty-free, HPLC tested and made using US grown hemp.
Brand Reputation
Physicians Grade the manufacturer that makes Advanced Relief Cooling Cream has been making cbd cream since 2019. The Food and Drug Administration (FDA) has not issued any warning letters to Physicians Grade. In case you are not satisfied with Advanced Relief Cooling Cream, Physicians Grade will refund your money.
CBD Brand Reputation & Transparency
Company Name
Physicians Grade
Year Established
2019
Reputation
No specific customer reviews
Lab testing
no information
COA (Certificate of Analysis )
No
FDA Approved
No
Review Highlights: Physicians Grade Cream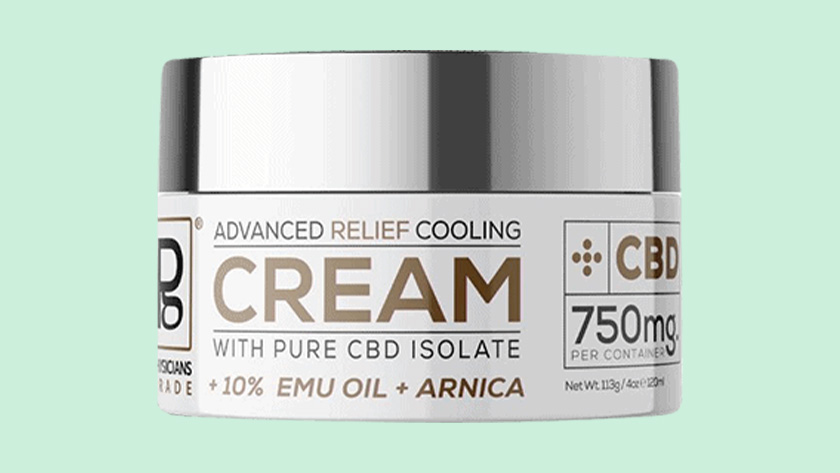 Quantity Of CBD In This Jar
Amount of CBD in Jar
4oz
Percentage of CBD in Jar
6.25%
Percentage of Other ingredients
93.45%
Percentage of THC in Jar
less than 0.3%
Cost of CBD In This Jar
CBD Product Price
$50.00
Jar Size
4oz
Cost of CBD per Milliliter
$0.07 per ml
Notable Product Characteristics
Scent
Unknown
Hemp source
US
(CBD) Strength
750mg
Texture
Medium
Decision Making Factors
| Key Factor | Rating |
| --- | --- |
| CBD Strength | GOOD |
| CBD Quality | GOOD |
| Independently Tested | GOOD |
| For Pain | AVERAGE |
| For Skin Conditions | VERY GOOD |
| For General Skin Care | VERY GOOD |
| Guarantee | POOR |
| Value For Money | GOOD |
Full Review
The advanced relief cooling cream claims to moisturize the skin and also provide relief from muscle and joint pains, soreness, stiffness, and inflammation. The cream can be easily absorbed by the skin. It creates a soothing and calming effect when applied to the affected area.
People with body pains can find relief by using CBD cream. The cream works well when used before or after a workout session. Using the cream at night will help users get a good night's sleep. The cream contains less than 0.3% THC.
Findings: Advanced Relief Cooling Cream
Potency
Each jar of cream contains 750mg CBD.
Hemp Cultivation
The cream is made using 99% pure CBD isolate extracted from US grown hemp.
Smell
Unable to find the details.
Customer Ratings
There are no specific customer reviews on the product page. However, customers can find reviews for various products on the home page and on every product page.
Cost
Each jar of cream is priced at $50 (for 4 oz). Customers who subscribe to the product get a 20% discount. The product costs $40/ month for subscribers.
Independent Testing
The product has been tested by an independent third-party lab. Scan the QR code on the product to get the lab reports.
Ingredients
The cream is made using pure CBD isolate, arnica flower (for pain relief and inflammation), 10% Emu oil (for heal wounds faster, protect the skin, and relieve pain), menthol, vitamin E, and other ingredients.
How to Apply Advanced Relief Cooling Cream?
Apply a small portion of the cream (pea-sized) to the affected area
The cream can be used in the morning, afternoon, and evening/ night (not more than 3-4 times a day)
Massage it into the skin until it is fully absorbed
The cream is meant for external use only
Drinking lots of water and taking adequate rest is also suggested
Pregnant and nursing women are recommended against using the product
Do not use on open wounds, broken skin, or cuts
What does the 3rd Party Testing & Lab Results Reveal?
The name of the third-party lab could not be found on the company website.
The lab reports are not found on the company website. However, customers can scan the QR code on the homepage to get access to the lab reports.
The products pass the US and European limits for THC with less than 0.3% THC.
Scan the QR code available on this page: https://www.physiciansgrade.com/
Company Details
About Physicians Grade
Physicians Grade has more than 25 years of experience in manufacturing CBD products. The company emphasizes that it tests each product thrice before releasing them into the market. The company is located in the US. Contact: [email protected]
Location
The details are not found on the company website.
Guarantee
There is no information on the company website.
Spectrum Type
Physicians Grade is a CBD isolate cream
CBD Extraction Method
The extraction process is not mentioned on the company website..
Quality of Customer Support
Customers can contact customer support via phone and email mentioned on the company website.
Shipping Options
The company offers free shipping services across the US. The delivery time is 2-3 business days.
Guarantee & Deliverability
Refund Policy
No information
Ships From
US
Ships To
US
Delivery
2-3 business days