AFFILIATE DISCLOSURE: If you buy through the links on this page, CBD Cream Advisor DOES NOT earn an affiliate commission. CBD companies cannot buy influence over how we rate their CBD Topicals. Learn how we earn and how our unbiased review process of over 180+ CBD topicals works.
Nightingale Remedies Brand Reputation
Nightingale Remedies the business that makes CBD Relief Cream has been producing cbd cream since 2017. The Food and Drug Administration (FDA) has not issued any warning letters to Nightingale Remedies. Buying CBD Relief Cream from Nightingale Remedies has a money back guarantee.
Brand Reputation of Nightingale Remedies
Company Name
Nightingale Remedies
Year Established
2017
Reputation
no customer reviews
Lab testing
Tested by Lab PIXIS Labs
COA (Certificate of Analysis )
Yes
FDA Approved
No
Guarantee & Deliverability of Nightingale Remedies
Refund Policy
60 days
Ships From
US
Ships To
US
Delivery
No information
Review Highlights: Nightingale Remedies Cream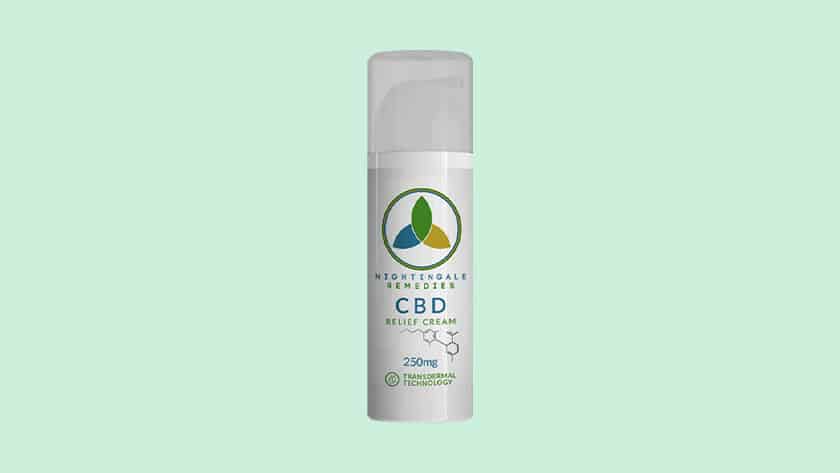 Quantity of Nightingale Remedies CBD Cream
Amount of CBD in Jar
50ml
Percentage of CBD in Jar
5%
Percentage of Other ingredients
95%
Percentage of THC in Jar
THC-free
Cost Breakdown of Nightingale Remedies CBD Cream
CBD Product Price
$49.95
Jar Size
50ml
Cost of CBD per Milliliter
$0.20 per ml
Product Characteristics of Nightingale Remedies CBD Cream
Scent
Turmeric
Hemp source
US
(CBD) Strength
250mg
Texture
Medium
Decision Making Factors
| Key Factors of Nightingale Remedies CBD Cream | Our Rating |
| --- | --- |
| CBD Strength | AVERAGE |
| CBD Quality | GOOD |
| Independently Tested | GOOD |
| For Pain | AVERAGE |
| For Skin Conditions | AVERAGE |
| For General Skin Care | AVERAGE |
| Guarantee | VERY GOOD |
| Value For Money | GOOD |
Full Review
CBD Topical Cream is an effective CBD cream. The company claims that it helps relieve muscle aches and other bodily pains occurring due to metabolic activities. The cream contains analgesic and other medical-grade ingredients that ensure instant relief from muscle and nerve pain.
CBD Topical contains top tier hemp extract from the USA. The cream's potent analgesics and natural ingredients not only help in pain relief but also improve joint health. It also helps naturally nourish your skin and make it soft and shiny.
Natural Remedies have put a team of doctors and a 30-year compounding pharmacist from the natural healing sector to ensure this cream derives most of the hemp extract. It comes in a 250mg composition, and the product is THC free. You can buy a bottle or two or three together but won't get any discount on either package.
Findings: CBD Relief Cream
Potency
Each bottle of cream contains 250 mg of CBD strength.
Hemp Cultivation
The Hemp used in the cream comes straight from the USA, where you can find the finest quality hemp.
Smell
The product has a natural smell like a blend of turmeric and plant herbs due to Serrata's presence. It's refreshing and lasts long around the area.
Customer Ratings
The company website shows 5-star ratings, though we cannot determine how many customers rated the product and how.
Cost
A bottle of 300 250mg CBD Topical Cream costs $49.95 while you can buy three at once at $149.95. The company is currently offering 2 bottles free for every 3-in-1 pack.
Independent Testing
Each product has been tested by third-party labs.
Ingredients
The company uses all natural ingredients such as turmeric, boswella serrata, D & HCL glucosamine, and MSM along with USA-grown hemp extracts.
Lab Reports (check lab reports tab): https://nightingale-remedies.com/cbd_cream.php
How to Apply CBD Relief Cream?
Apply 4-5 pumps of the cream from the bottle on the affected region and rub it in circles. Let the skin absorb the cream. Don't wash the cream away.
For best results, try to include jogging, yoga, running, gym workouts, and other physical exercises for at least half an hour every day.
Apply the cream as and when needed.
The cream is not meant for internal consumption.
What does the 3rd Party Testing & Lab Results Reveal?
The third-party testing is done by PIXIS Labs (cream) and Chem History (patches), Portland, Oregon.
You can get the complete details of the Lab Reports on each product's ordering page. They are full printouts of the positive lab tests which haven't been tinkered with.
The product passes the US and European limits for THC as it is THC-free.
Company Details
About Nightingale Remedies
Nightingale Remedies sells CBD products made using a special Transdermal Technology that facilities faster penetration of the cream and provides better results. The company HQ is in Portland, Oregon. Contact: [email protected]
Location
The company is located at 17152 SW Upper Boone's Ferry, Portland Oregon, 97224, USA..
Guarantee
The company offers a 60-day period to return the products and get a refund. Contact customer care for more information.
CBD Extraction Method
The query has been mailed to the support team.
Quality of Customer Support
You can get the email address and contact number of the company on the website's Contact Us page.
Shipping Options
You can get each of their products at a free shipping cost with no hidden charges. Once placed, you can expect the order within a couple of weeks.