AFFILIATE DISCLOSURE: If you buy through the links on this page, CBD Cream Advisor DOES NOT earn an affiliate commission. CBD companies cannot buy influence over how we rate their CBD Topicals. Learn how we earn and how our unbiased review process of over 180+ CBD topicals works.
Medterra offers a wide selection of rigorously-tested, all-natural non-GMO CBD products at an affordable price. These products are free of THC and differ in terms of potency, style, and application. The topicals made by the company target the specific body areas to directly focus the CBD effects into the affected area. All the products made by Medterra are free of pesticides and are well suited for application on the skin. These topical have a cooling sensation over a heating sensation.
Medterra Brand Reputation
Medterra the brand that makes Rapid Cooling Cream has been producing cbd cream since 2017. Medterra has not received any warning letters from the Food and Drug Administration (FDA). Medterra will give you a money back guarantee if you buy Rapid Cooling Cream and you are unhappy with it.
Brand Reputation of Medterra
Company Name
Medterra
Year Established
2017
Reputation
450 customer reviews
Lab testing
Tested by Pro Verde Laboratories
COA (Certificate of Analysis )
Yes
FDA Approved
No
Guarantee & Deliverability of Medterra
Refund Policy
30 days
Ships From
US
Ships To
US
Delivery
no information
Review Highlights: Medterra Cream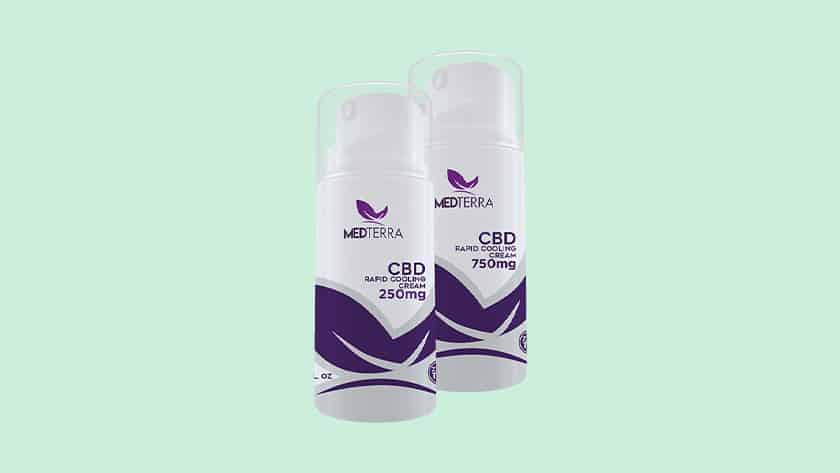 Quantity of Medterra
CBD Cream
Amount of Cream in Jar
3.4oz & 1.7oz
Percentage of CBD in Jar
7.5%
Percentage of Other ingredients
92.5%
Percentage of THC in Jar
THC free
Cost Breakdown of Medterra CBD Cream
CBD Product Price
$64.99, $39.99, & $24.99
Jar Size
3.4oz & 1.7oz
Cost of CBD per Milliliter
$0.09 per ml
Product Characteristics of Medterra CBD Cream
Scent
Minty
Hemp source
US
(CBD) Strength
750mg
Texture
Medium
Decision Making Factors
| Key Factors of Medterra CBD Cream | Our Rating |
| --- | --- |
| CBD Strength | GOOD |
| CBD Quality | VERY GOOD |
| Independently Tested | VERY GOOD |
| For Pain | VERY GOOD |
| For Skin Conditions | VERY GOOD |
| For General Skin Care | VERY GOOD |
| Guarantee | VERY GOOD |
| Value For Money | GOOD |
Full Review
The Medterra CBD rapid cooling cream is available in three strengths of 750 mg, 500 mg, and 250 mg of full-spectrum CBD. It is a powerhouse combination of organic ingredients like menthol and fifteen other botanical extracts with anti-inflammatory benefits. This non-greasy, light cream claims to ease joint pain, sore backs, and stiff necks. It also claims to treat arthritic pain, insect bites, and muscle cramping. It has a cooling sensation that adds an extra pain-relief layer and stimulates blood flow to the sore area. The company claims that their idea of adding arnica to the cream makes the formula special. That is because this traditional and hundred-percent herbal medicine heals rapidly, prevents bruise formation, and alleviates inflammation and pain.
Findings: Medterra CBD Cream
Potency
This cream comes in three strengths: 750 mg, 500 mg, and 250 mg.
Hemp Cultivation
The company sources pesticide-free industrial hemp grown in Kentucky, USA.
Smell
The cream has a pleasant minty aroma because it is infused with menthol.
Customer Ratings
The cream has over four hundred and fifty reviews with an average rating of 4.9 stars out of 5 on the company website.
Cost
The 3.4 oz (750 mg CBD) bottle of the cream is priced at $74.99 on the company website.
The 1.7 oz bottle of the cream is priced at $47.99 on the company website.
The 3.4 fl oz (250 mg CBD) bottle of the cream is priced at $29.99 on the company website.
Independent Testing
The company gets the cream tested in a third-party lab to meet industry regulations and industry standards.
Ingredients
The cooling cream contains (Sunflower) Seed Oil*, Arnica Montana Flower Extract, (Ginger) Root Oil, (Olive) Fruit Oil, and (Safflower) Seed Oil. This cream is infused with (Orange) Peel Oil, (Rosemary) Leaf Extract, Salvia Sclarea (Clary) Oil, Menthol, Grape Seed) Extract, (Tea Tree) Oil, (Lime) Peel Oil, and Xanthan Gum. It contains Cetyl Alcohol, Aloe Barbadensis (Inner Fillet) Leaf Juice, (Basil) Leaf Oil, (Bergamot) Fruit Oil, Cannabidiol (CBD), and Sodium Hydroxide (Mineral Salt/USP).
How to Apply Medterra CBD Cream?
Press the pump nozzle of the cream bottle.
Pump out the desired amount of the cream on the hand.
Massage the desired amount anywhere from head to toe.
Focus application on the sore and inflamed areas.
Repeat the use of the cream every two to four house as needed.
To have maximum relief, use the cream over extended periods.
Please do not use it on open wounds.
Avoid contact with sensitive areas and eyes.
What does the 3rd Party Testing & Lab Results Reveal?
Pro Verde tests each sample of the cream for molds, yeasts, heavy metals, and microbial contaminants. It also confirms the quality of the cream.
The batch numbers of the product could be tested on the manufacturer's website.
The cream passes the US and European limits for THC with zero percent THC.
Company Details
About Medterra
Medterra CBD, LLC is headquartered in California's Irvine in the USA. It was founded in 2017 and since then has been providing the highest-quality CBD products. The company places a premium on the safety, potency, quality, and purity of products. Medterra CBD has partnered with the pilot program of Industrial Hemp Research. This company ships its products to all the states in the US. Call on (800) 971-1288.
Location
Medterra CBD, LLC is headquartered in Irvine, California, USA.
Guarantee
The company offers a 30-day money-back guarantee..
CBD Extraction Method
The company uses the supercritical CO2 extraction method.
Quality of Customer Support
Customers can contact customer care through a call on (800) 971-1288 or through the website's Contact Us page.
Shipping Options
The company ships to all fifty states in the US. Orders placed after 2:00 PM PST are shipped the following business day.