AFFILIATE DISCLOSURE: If you buy through the links on this page, CBD Cream Advisor DOES NOT earn an affiliate commission. CBD companies cannot buy influence over how we rate their CBD Topicals. Learn how we earn and how our unbiased review process of over 180+ CBD topicals works.
Kannway, the company that makes the salve we're reviewing today, has a pretty good reputation.
They have been manufacturing CBD products since 2009. Kannaway also became the first public cannabis trading company in the usa. Their product line includes cbd oils, cbd topicals, and various other types of CBD skin care products.
This review will examine Kannaway CBD salve, a salve product produced by Kannaway. We will analyze and share everything you need to know about this product so you can make an informed buying decision. By the end of this view you will know if this CBD salve is as good as the reputation of the company that manufacturers it!
Before you purchase Kannway CBD salve, read this review first. Take a look at the overall score we gave this CBD topical product and see how it compared to other salves in our topical database.
Kannaway Brand Reputation
Kannaway the business that makes Kannaway Salve has been creating CBD salve since 2009. FDA has not issued any warning letters to Kannaway. Buying CBD Salve from Kannaway has a money back guarantee.
Brand Reputation of Kannaway
Company Name
Kannaway
Year Established
2009
Reputation
No customer reviews
Lab testing
Tested by CTLA
COA (Certificate of Analysis )
Yes
FDA Approved
No
Guarantee & Deliverability of Kannaway
Refund Policy
30 Days
Ships From
US
Ships To
US & Europe
Delivery
5-7 business days
Review Highlights: Kannaway Salve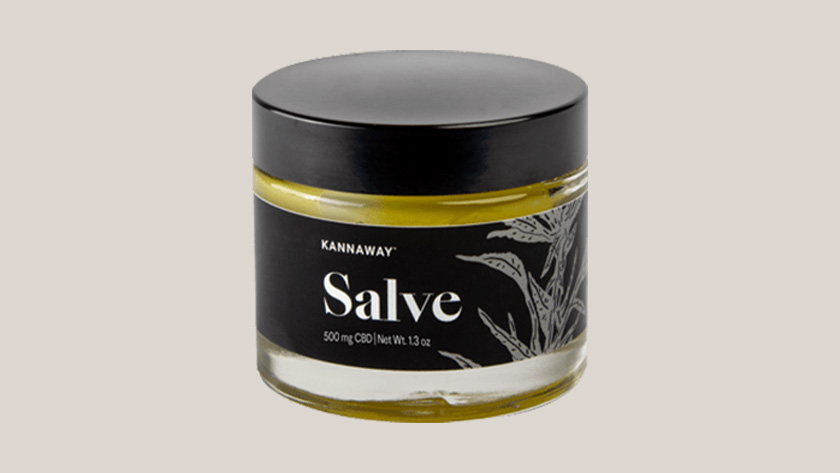 Quantity of Kannaway CBD Salve
Amount of CBD in Jar
1.3oz
Percentage of CBD in Jar
13.16%
Percentage of Other ingredients
86.84%
Percentage of THC in Jar
Cost Breakdown of Kannaway CBD Salve
CBD Product Price
$50.69
Jar Size
1.3oz
Cost of CBD per Milliliter
$0.10 per ml
Product characteristics of Kannaway CBD Salve
Scent
pleasant aroma
Hemp source
US
(CBD) Strength
500mg
Texture
Medium
Decision Making Factors
| Key Factors of Kannaway CBD Salve | Our Rating |
| --- | --- |
| CBD Strength | GOOD |
| CBD Quality | VERY GOOD |
| Independently Tested | EXCELLENT |
| For Pain | VERY GOOD |
| For Skin Conditions | VERY GOOD |
| For General Skin Care | VERY GOOD |
| Guarantee | VERY GOOD |
| Value For Money | GOOD |
Full Review
Kannaway CBD Salvehas 500 mg sustainable full-spectrum hemp CBD. The company claims that this CBD-infused topical balm contains an ancient unique formula that synergistically works with hemp for great results. The formula in the salve comprises a combination of camphor essential oil, ginger root, almond oil, beeswax, and several other natural botanicals.
Kannaway also claims that all the natural ingredients used to make the topical balm are hundred-percent natural. It contains no dyes or additives. This ointment has a creamy and thick texture. It claims to hydrate and nourish troubled areas. The salve claims to treat dry skin patches, wrinkles, age spots.
Besides, the hemp CBD's balancing properties help ease discomfort and soreness after a strenuous day or intense workout. The vitamins D and A, infused in the balm encourage skin growth and repair. Omega-6 and omega-3 fatty acids in the ointment soften your skin naturally and regenerate the outer protective layer.
Findings: Kannaway CBD Salve
Potency
A 1.3 oz jar contains 500 mg CBD.
Hemp Cultivation
The company sources its hemp from Europe.
Smell
The salve has a pleasant aroma.
Customer Ratings
There are no customer reviews on the official website.
Cost
One jar of 1.3 oz salve is priced at $46.99 on the company website.
Independent Testing
The company gets the product tested by third-party labs.
Ingredients
The salve contains Sustainable Hemp Oil, Cinnamomum Camphora Essential Oil, ginger root, Radix Ledebourielae Divarcatae, and Cartex Lycii Radicals. It is infused with Herbal Extract, Sodium Stearoyl Lactylate, Cetearyl Alcohol, Glyceryl Stearate, and Candelilla/Jojona/Rice Bran Polglcryl-3 Esters. The salve also contains Cera Alba (Beeswax), and Prunus Dulcis (Almond) Oil.
How to Apply Kannaway CBD Salve?
Open the lid of the jar
Apply a generous amount of the salve to the affected areas
Massage the salve right into those sore muscles and joints
Allow the balm to get absorbed into the skin
You can also apply the salve to the dry hair follicles to restore hydration
Use it all through the day or as the need arises.
What does the 3rd Party Testing & Lab Results Reveal?
Contract Testing Laboratories of America (CTLA) tests and confirms the quality of the salve.
The batch numbers of the product could be tested on the manufacturer's website.
The salve passes the US and European limits for THC.
Find the lab test result here:
https://kannaway.com/coas/115,file,salve-500mg.pdf.
Company Details
About Kannaway
Kannaway is headquartered in San Diego, California, USA. The company is a member of the Hemp authority of the US. In the year 2009, Kannaway became the first public cannabis trading company in the US. The company sells a wide selection of products right from capsules to salves, oral applicators, and edibles. It is a pioneer in the legal delivery of CBD products across the global market and US states. Email at [email protected].
Location
The company is headquartered in San Diego, California, USA.
Guarantee
The company offers a 30-day return guarantee for unopened products.
CBD Extraction Method
The company uses the CO2 extraction method.
Quality of Customer Support
Customers can contact customer care through a call on +1 858 500 3144, or email on [email protected].
Shipping Options
The company ships to all the states within the US and select European countries. Shipping takes 5-7 business days.