AFFILIATE DISCLOSURE: If you buy through the links on this page, CBD Cream Advisor DOES NOT earn an affiliate commission. CBD companies cannot buy influence over how we rate their CBD Topicals. Learn how we earn and how our unbiased review process of over 180+ CBD topicals works.
Infinite CBD provides a wide selection of CBD products of high quality using organically grown hemp. The company claims that their pain-relieving topicals help manage soreness in joints, muscles, inflammation, and chronic pain. Their NANO freezing point cream and the freezing point cream are excellent additions to the cruelty-free topical product line. Both these creams claim to have a pain-focused formula that addresses the nagging body aches and joint pain. These creams are devoid of high fructose corn syrup, low-quality crude oil, hemp seed oil, harmful pesticides, and GMOs.
Infinite Brand Reputation
Infinite CBD the business that makes Infinite CBD Cream has been producing cbd cream since 2017. FDA has not issued any warning letters to Infinite CBD. Infinite CBD will give you a money back guarantee if you buy Infinite CBD Cream and you are unhappy with it.
Brand Reputation of Infinite CBD
Company Name
Infinite CBD
Year Established
2017
Reputation
100 customer reviews
Lab testing
Tested by Earth Labs
COA (Certificate of Analysis )
Yes
FDA Approved
No
Guarantee & Deliverability of Infinite CBD
Refund Policy
No information
Ships From
US
Ships To
US & International
Delivery
No information
Review Highlights: Infinite Cream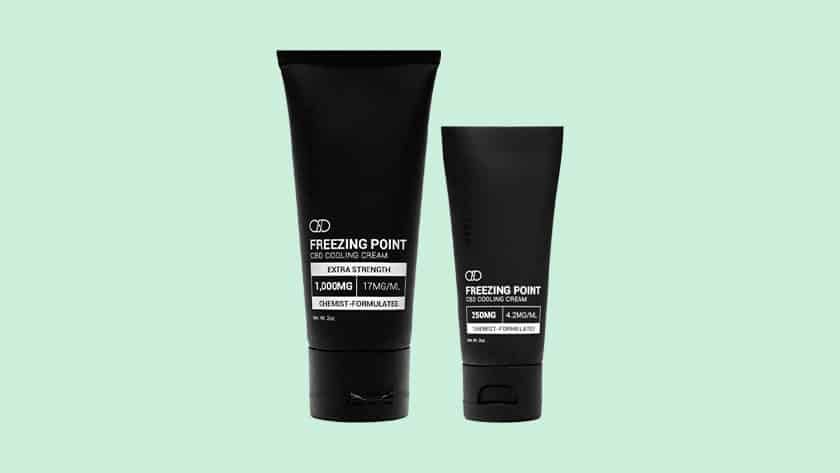 Quantity of Infinite CBD Cream
Amount of CBD in Jar
8oz & 2oz
Percentage of CBD in Jar
4.17%
Percentage of Other ingredients
95.83%
Percentage of THC in Jar
0%
Cost Breakdown of Infinite CBD Cream
CBD Product Price
$53.60 & $51.20
Jar Size
8oz & 2oz
Cost of CBD per Milliliter
$0.05 per ml
Product Characteristics of Infinite CBD Cream
Scent
Eucalyptus, Peppermint, Menthol, & Camphor
Hemp source
US
(CBD) Strength
1000mg
Texture
Medium
Decision Making Factors
| Key Factors of Infinite CBD Cream | Our Rating |
| --- | --- |
| CBD Strength | VERY GOOD |
| CBD Quality | GOOD |
| Independently Tested | GOOD |
| For Pain | VERY GOOD |
| For Skin Conditions | VERY GOOD |
| For General Skin Care | VERY GOOD |
| Guarantee | VERY GOOD |
| Value For Money | GOOD |
Full Review
Infinite CBD Freezing Point CBD Topical Cream in two potencies and bottle sizes- 8 oz 1000 MG and 2 oz. 250 MG. The cream claims to provide a mild-moderate relief to achy joints, stiff and sore muscles. This freezing point cream has camphor, menthol, eucalyptus, and menthol that claim to target the underlying inflammation resulting in painful muscles and joints. Camphor in the cream helps heal wounds, reduce inflammation, and pain, while eucalyptus has microbial properties. It keeps lowers the infection risk and keeps your skin clean. Apricot oil in the cream tones naturally firms the skin while the menthol helps with minor musculoskeletal issues like sprains.
The company claims that the Freezing Point CBD soccer players, cyclists can use topical Cream and UFC fighters as it helps in training harder and make improvements during recovery. The fast-acting cream is moisturizing, goes on smooth on application, and seeped into the skin without making the skin oily. The company claims that the cream works well as a hand lotion because it leaves the hands smelling delightful and soft.
Findings: Freezing Point Cream
Potency
The Freezing Point CBD Topical Cream is available in two strengths: 1000 mg and 250 mg.
Hemp Cultivation
The Freezing Point CBD Topical Cream contains CBD isolates derived from chemical-free hemp grown in Colorado's organic farms.
Smell
The Freezing Point CBD Topical Cream has a refreshing minty aroma because it is infused with eucalyptus, peppermint, menthol, and camphor.
Customer Ratings
Infinite CBD Freezing Point CBD Topical Cream has over 100 reviews on the official website with an average rating of 4.5 stars out of 5.
Cost
The 8 oz/236 ml (1000 mg CBD) bottle of the cream is priced at $53.60 on the company website.
The 2 oz/ 60 ml (1000 mg CBD) tube of the cream is priced at $51.20 on the company website.
The 2 oz/ 60 ml (250 mg CBD) tube of the cream is priced at $16.80 on the company website.
Independent Testing
The company gets the cream tested in independent, ISO-certified third-party labs.
Ingredients
The cream contains Purified Water, Dehydroacetic Acid, Benzoic Acid, Lactic Acid, Tocopherol, Citric Acid, and Powder. It is infused with Organic Aloe Vera Leaf Juice, Phenoxyethanol, Apricot Kernel Oil, Xanthan Gum, Eucalyptus Oil, Peppermint Oil, and Camphor Oil. The cream contains Menthol, Cetearyl Alcohol, Organic Sunflower Seed Oil, Organic Coconut Oil, and CBD Isolate. This cream has other ingredients that include Prunus Amygdalus Dulcis (Sweet Almond) Oil, BHT, Hexylene Glycol, Caprylyl Glycol, PEG-100 Stearate, Glyceryl Stearate, and Dimethicone.
How to Apply Freezing Point Cream?
Press the nozzle on the bottle to pump out a desired amount of the cream.
Apply the desired amount to inflamed areas and sore muscles.
Massage in a circular motion.
Keep massaging the cream until it is absorbed.
Repeat the application process as necessary.
What does the 3rd Party Testing & Lab Results Reveal?
The company gets the Freezing Point CBD Topical Cream tested by Earth Labs, LLC for residual solvents, pesticides, mycotoxins, microbial, and pesticides.
There is no batch number-wise information for lab reports on the company website.
The cream passes the US and European limits for THC.
Company Details
About Infinite CBD
Infinite CBD is a CBD (cannabidiol) manufacturing company founded in 2017. It is headquartered in Colorado's Lakewood in the USA. The company creates top-notch wellness and health products for white-label, wholesale, and retail customers. The company's mission is to enhance the life quality of people through their endocannabinoid system and CBD power. All of Infinite CBD's products are not made with full-spectrum extracts, but CBD isolates because isolates are more versatile, pure, and consistent. They have an extensive range of CBD topicals that reduce inflammation and pain. The topicals are available across all the states in the USA. These creams can be ordered online as well as purchased offline through retailers. Call on 303-562-1645 or email at [email protected].
Location
The company is headquartered in Lakewood, Colorado, USA.
Guarantee
The Freezing Point CBD Topical Cream comes with a 30-day 100% satisfaction guarantee, allowing one to have time to evaluate their full CBD experience.
CBD Extraction Method
The company uses a cryo-ethanol extraction method. All of the ethanol is removed out to the Isolate once the process is completed.
Quality of Customer Support
Customers can contact customer care through a call on 303-562-1645 Monday – Friday
8:00 AM – 5:00 PM MSTOr email at [email protected].
Shipping Options
Infinite CBD ships internationally but cannot ship to South Dakota, Australia, or Canada at this time due to legal restrictions. Any orders over $99 in the United States are eligible for free shipping.