Brand Reputation
Herb Essentials the manufacturer that makes Body Lotion has been selling cbd lotion since 2015. Herb Essentials has not received any warning letters from the Food and Drug Administration (FDA). Herb Essentials will give you a money back guarantee if you buy Body Lotion and you are unhappy with it.
CBD Brand Reputation & Transparency
Company Name
Herb Essentials
Year Established
2015
Reputation
No customer reviews
Lab testing
Tested by Spa De Soleil
COA (Certificate of Analysis )
Yes
FDA Approved
No
Review Highlights: Herb Essntls Lotion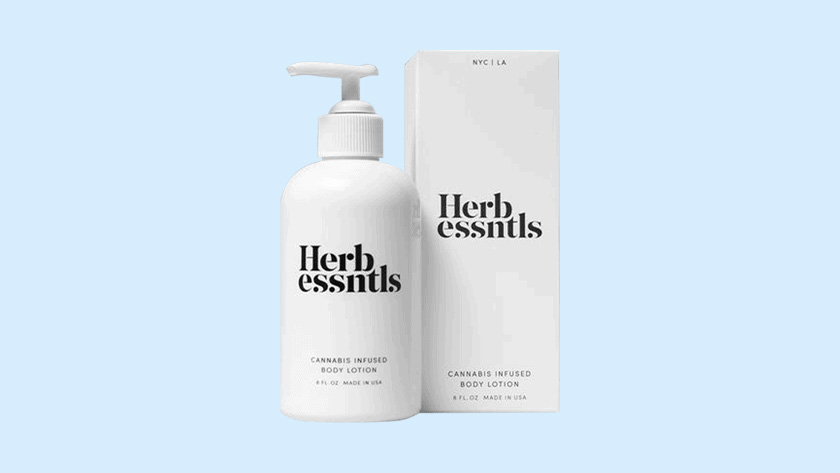 Quantity Of CBD In This Jar
Amount of CBD in Jar
8oz
Percentage of CBD in Jar
No information
Percentage of Other ingredients
No information
Percentage of THC in Jar
THC free
Cost of CBD In This Jar
CBD Product Price
$48.00
Jar Size
8oz
Cost of CBD per Milliliter
Notable Product Characteristics
Scent
Unknown
Hemp source
US
(CBD) Strength
Texture
Medium
Decision Making Factors
| Key Factor | Rating |
| --- | --- |
| CBD Strength | POOR |
| CBD Quality | VERY GOOD |
| Independently Tested | GOOD |
| For Pain | AVERAGE |
| For Skin Conditions | GOOD |
| For General Skin Care | GOOD |
| Guarantee | VERY GOOD |
| Value For Money | GOOD |
Full Review
The body lotion by Herb Essntls claims to nourish and moisturize the skin to keep it hydrated and soft. The lotion is made using organic ingredients and is cruelty-free. It doesn't contain THC. The lotion is paraben-free. However, it contains sea algae extract.
The lotion is easily absorbed by the skin. The omega3 – omega6 ratio in Cannabis Sativa seed oil helps in keeping the skin smooth and soft.
Findings: Herb Essntls Body Lotion
Potency
The quantity of CBD in the lotion was not mentioned on the company website.
Hemp Cultivation
The lotion contains Cannabis Sativa seed oil.
Smell
We were unable to find the information.
Customer Ratings
There are no customer reviews on the company website.
Cost
Each bottle of lotion is priced at $48 (for 8 fl oz).
Independent Testing
The product has been tested by third-party labs.
Ingredients
The lotion is made using aloe leaf juice, shea butter, safflower seed oil, sunflower seed oil, lavender extract, lemon peel extract, Japanese green tea leaf extract, apple fruit extract, chamomile flower extract, sea algae extract, marigold flower extract, cucumber fruit extract, carrot root extract, fragrance, and other organic ingredients that are said to hydrate the skin and make it supple.
How to Apply Herb Essntls Body Lotion?
Take a small quantity of the lotion and apply to the affected area
The lotion is suitable for all skin types
Do not consume internally
What does the 3rd Party Testing & Lab Results Reveal?
The company gets the products tested by Spa De Soleil.
The CoA (Certificate of Analysis) is available on the individual product webpage.
The product passes the US and European limits for THC as it is THC-free.
Find the CoA here:
https://herbessntls.com/products/bodylotion
Check Ingredients section.
Company Details
About Herb Essentials
The company was founded in 2015 by NYC. The CBD products are manufactured and shipped from Los Angeles, CA. The company sells an array of CBD-based skincare products in the US market and the international market through the company website. Contact: [email protected]
Location
The company headquarters is located in NYC. The products are manufactured in Los Angeles.
Guarantee
The company accepts returns to refund for products that have not been opened or damaged, that too, within 30 days. Customers can contact the support team for more information.
CBD Extraction Method
The information has not been found on the company website.
Quality of Customer Support
Customers can contact customer support through email, phone, and snail-mail.
Shipping Options
The company offers free shipping on all orders over $35. However, international customers should pay any of the taxes, duties, and customs charges to receive the order.
The standard delivery time is 3-5 business days for orders within the US. The company also offers second day delivery (within 2 business days) and Next day delivery (within one business day).
International orders take up to 4 weeks to reach the destination.
Guarantee & Deliverability
Refund Policy
30 days
Ships From
US
Ships To
US & International
Delivery
3-5 business days
4 weeks