AFFILIATE DISCLOSURE: If you buy through the links on this page, CBD Cream Advisor DOES NOT earn an affiliate commission. CBD companies cannot buy influence over how we rate their CBD Topicals. Learn how we earn and how our unbiased review process of over 180+ CBD topicals works.
Fairwinds Brand Reputation
Fairwinds the manufacturing company that makes Flow CBD Gel has been creating CBD cream since 2014. FDA has not issued any warning letters to Fairwinds. Fairwinds will give you a money back guarantee if you buy Flow CBD Gel and you are unhappy with it.
Brand Reputation of Fairwinds
Company Name
Fairwinds
Year Established
2014
Reputation
No customer reviews
Lab testing
Not available
COA (Certificate of Analysis )
No
FDA Approved
No
Guarantee & Deliverability of Fairwinds
Refund Policy
No information
Ships From
US
Ships To
US
Delivery
No information
Review Highlights: Flow Gel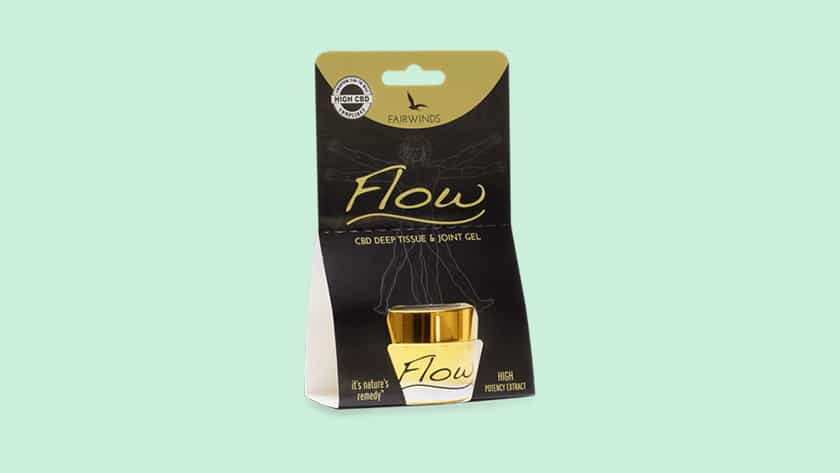 Quantity of Fairwinds
Amount of CBD in Jar
1oz
Percentage of CBD in Jar
4.67%
Percentage of Other ingredients
95.03%
Percentage of THC in Jar
more than 0.3%
Cost Breakdown of Fairwinds
CBD Product Price
$42.00
Jar Size
1oz
Cost of CBD per Milliliter
$0.30 per ml
Product Characteristics of Fairwinds
Scent
Citrus
Hemp source
US
(CBD) Strength
140mg
Texture
Medium
Decision Making Factors
| Key Factors of Fairwinds | Our Rating |
| --- | --- |
| CBD Strength | AVERAGE |
| CBD Quality | VERY GOOD |
| Independently Tested | POOR |
| For Pain | AVERAGE |
| For Skin Conditions | GOOD |
| For General Skin Care | GOOD |
| Guarantee | POOR |
| Value For Money | GOOD |
Full Review
The Flow CBD Deep Tissue and Joint Gel by Fairwinds Cannabis is known the results it provides. The company claims that the gel can be used to get relief from arthritis pain, minor burns, and sore muscles. It takes a little while to seep into the skin and provide relief, but no more than 5 minutes (max).
The gel contains CBD oil along with-
Comfrey extract, citrus oil, chamomile oil, bergamot oil, white willow bark, linalool oil, eucalyptol, etc. The gel has a slightly watery consistency so that the skin can easily absorb it. Get relief from joint pains and stiff muscles and lead an everyday life.
Findings: Flow CBD Gel
Potency
The product contains 140 mg CBD strength, 6 mg CBDA, and 4 mg THC.
Hemp Cultivation
Flow CBD gel uses full-spectrum hemp sourced from Washington, USA.
Smell
The gel has a delicate, citrusy, and sweet smell that's mild and pleasant.
Customer Ratings
The company website has no customer reviews. The product has three 5-star reviews on leafly.com.
Cost
The gel is priced at $42 (on leafly.com) for 30g.
Independent Testing
There is no information available on the website.
Ingredients
Cosmetic Gel Base, Essential Oil and Terpene Blend (Bergamot, Citrus, Chamomile, Linalool, Eucalyptol, Borneol, Caryophyllene, Myrcene), Cannabis Oil, White Willow Bark, Comfrey Extract.
How to Apply Flow CBD Gel?
Wash the affected area clean before applying the gel
Take a small quantity (the size of a dime) and gently rub it into the skin
It takes around 1-3 minutes for the skin to absorb the ingredients in the gel
It takes 2-5 minutes for the gel to start showing results and relieving pain
The gel can be reapplied as and when necessary
The gel can cause minor irritation for people with sensitive skin
Do not use excess gel for better results. It will lead to skin irritation and redness
Wipe away the excess gel, and if irritation occurs
The gel is only for the external use. Do not ingest
What does the 3rd Party Testing & Lab Results Reveal?
Third-party independent lab test details are not available on the company website.
The test reports were not found on the website.
The product contains 4 mg of THC, which is more than the US approved 0.3% THC.
No link available.
Company Details
About Fairwinds
Fairwinds was established in 2014 with the commitment to introduce highly-engineered nutraceutical cannabis wellness products to the Washington recreational market. Using advanced, world-class cannabis cultivation and processing technologies alongside unique eastern medicine philosophies and formulations, the company aspired to redefine the way society approaches health and wellness. Since its origins, Fairwinds has consistently pushed for higher standards in cultivation and processing to provide the most effective and safe product for its customers.
Location
The company headquarters is located in Vancouver, WA, USA.
Guarantee
No information is available on the website.
CBD Extraction Method
The company uses ultra-pure hydrocarbon solvents approved by FDA and advanced processing instruments to ensure that the extracted CBD is free from pesticides, harsh solvents, and bacteria.
Quality of Customer Support
Contact customer care through email or the contact form on the website.
Shipping Options
The company doesn't ship the products inside or outside of Washington (due to Federal and State laws). The product must be purchased from the licensed cannabis retail dispensary in the region.