AFFILIATE DISCLOSURE: If you buy through the links on this page, CBD Cream Advisor DOES NOT earn an affiliate commission. CBD companies cannot buy influence over how we rate their CBD Topicals. Learn how we earn and how our unbiased review process of over 180+ CBD topicals works.
Core Extractions Brand Reputation
Core Extractions the business that makes Full Spectrum CBD Cream has been producing cbd cream since 2019. Core Extraction has not received any warning letters from the Food and Drug Administration (FDA). Core Extraction will give you a money back guarantee if you buy Full Spectrum CBD Cream and you are unhappy with it.
Brand Reputation of Core Extractions
Company Name
Core Extraction
Year Established
2019
Reputation
6 customer reviews
Lab testing
no information
COA (Certificate of Analysis )
No
FDA Approved
No
Guarantee & Deliverability of Core Extractions
Refund Policy
No information
Ships From
US
Ships To
US
Delivery
No information
Review Highlights: Core Extractions Cream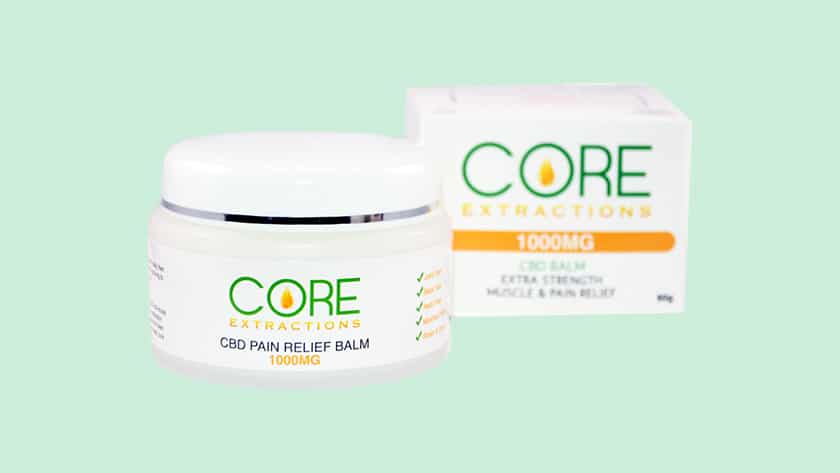 Quantity of Core Extractions CBD Cream
Amount of CBD in Jar
1.7oz
Percentage of CBD in Jar
40%
Percentage of Other ingredients
59.7%
Percentage of THC in Jar
less than 0.3%
Cost Breakdown of Core Extractions CBD Cream
CBD Product Price
$89.99 & $49.99
Jar Size
1.7oz
Cost of CBD per Milliliter
$0.04 per ml
Product characteristics of Core Extractions CBD Cream
Scent
Earthy
Hemp source
US
(CBD) Strength
2000mg & 1000mg
Texture
Medium
Decision Making Factors
| Key Factors of Core Extractions CBD Cream | Our Rating |
| --- | --- |
| CBD Strength | EXCELLENT |
| CBD Quality | VERY GOOD |
| Independently Tested | POOR |
| For Pain | VERY GOOD |
| For Skin Conditions | VERY GOOD |
| For General Skin Care | VERY GOOD |
| Guarantee | VERY GOOD |
| Value For Money | GOOD |
Full Review
This full-spectrum CBD Cream is said to provide relief from body, muscle, and joint pains. It claims to relieve arthritis pain, back and shoulder pain, strain and sprain, and relaxes stiff and sore muscles. The CBD cream is made using organic hemp and contains less than 0.3% THC. It is 100% vegan, gluten-free, non-GMO, eco-friendly, and doesn't contain any harsh chemicals or harmful pesticides.
Findings: Core Extractions CBD Pain Relief
Potency
The cream comes in two strengths- 1000 mg and 2000 mg of CBD.
Hemp Cultivation
The cream is made using full-spectrum CBD tincture extracted from 100% organic hemp grown in small family-owned farms in Upstate New York, US.
Smell?
The cream contains essential oils and doesn't have a strong scent.
Customer Ratings
There are six customer reviews on the product webpage. All of them have rated the cream 5 stars.
Cost
Each jar is priced at-
$49.99 for 1000 mg of CBD in 50g of cream
$89.99 for 2000 mg of CBD in 50g of cream
Independent Testing
The company gets the products tested by an independent third-party lab.
Ingredients
The CBD cream is made using camphor, violet leaf infused olive oil, castor oil, ginger root infused oil, almond seed oil, meadowfoam seed oil, natural hemp oil, CBD, beeswax, menthol, capsaicin, essential oils (turmeric, chamomile, lavender, ginger, frankincense), vitamin E, pure peppermint essential oil, and eucalyptus essential oil.
How to Apply Core Extractions CBD Pain Relief?
Take a small quantity of the cream
Apply to the affected and rub it into the skin for 30 seconds
Use once every 6-8 hours
Don't apply on cuts and open wounds
Not meant for internal consumption
Wash hands after applying the cream
What does the 3rd Party Testing & Lab Results Reveal?
The name of the third-party lab is not known.
We couldn't test the batch number of the product on the company website.
The product passes the US and European limits for THC as it contains less than 0.3% THC.
There is no link to the lab reports on the company website.
Company Details
About Core
Core Extractions was founded by a passionate group of individuals who wanted to supply the finest quality of CBD in the US market. The company closely works with family-owned farms and oversees the cultivation and processing of hemp. The company's HQ is located in New York. Contact: [email protected] or https://coreextractions.com/contact-us/
Location
The company headquarters are located at 2109 Steinway St., Astoria, NY 11105.
Guarantee
The company offers a 100% money-back guarantee.
CBD Extraction Method
The company uses the supercritical CO2 extraction method to extract CBD from organic hemp.
Quality of Customer Support
Customers can talk to the support team via email or the Contact Us page on the company website.
Shipping Options
The company provides free shipping in the US for orders over $50. In addition, subscribers can get a 20% discount on their first order. The company also offers wholesaler discounts.