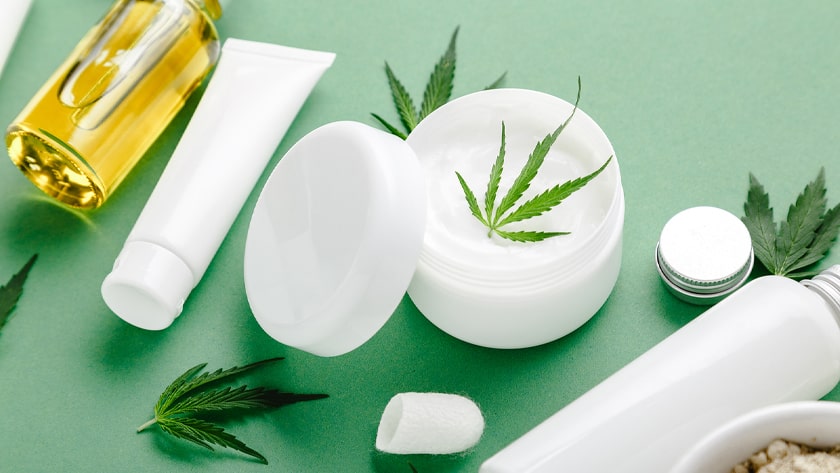 Scientific research on the effectiveness of CBD in skin-care products is still in its infancy.
Before you try any CBD skincare product it is important to know how much or little scientific research has been completed.
Below you will find promising CBD Skincare Studies that relate to the skin, skin conditions and skin health.
Inflammation and Skin Symptoms
In a study conducted in 2019, researchers applied CBD-enriched ointment to lesioned skin twice a day for three months. They did this observation on patients with psoriasis, atopic dermatitis, and resulting scars. Researchers observed that inflammatory and skin symptoms improved after three months, according to the study.
Acne Breakout Suppression
In a study, posted in 2014 in the Journal of Drug in Dermatology, CBD was effective in suppressing acne breakouts by regulating oil production within the sebaceous glands.
Cannabinoid Receptors
Studies indicate that cannabinoids and the ECS may play a role in numerous bodily processes and that cannabinoid receptors also exist in the skin.
Wide Range of Different Skin Conditions
According to a study, CBD oil can benefit a person's wide range of skin conditions.
Acne Treatment
Researchers conducted a study in 2014 to examine CBD's effects on human sebocytes. They produce sebum, an oily, waxy substance produced by the skin.
A large amount of sebum can cause acne, even though it helps protect our skin. Study results indicate that CBD can inhibit sebocytes from producing excessive sebum.
Acne Scar Treatment
There is evidence that CBD may also be beneficial for treating acne scars, according to a 2019 study.
Anti-fungal and Antibacterial Properties for Skin
According to a review published in 2016, cannabis has antibacterial and anti-fungal properties. Such properties could help prevent acne caused by skin infections.
Skin Health Benefits
A small study published in the March-April 2019 issue of the Italian journal Clinical Therapeutics studied 20 participants with either psoriasis, eczema, or scarring.
The researchers observed that an ointment formulated with CBD improved skin hydration (by moisturizing and preventing water loss), increased collagen production, and improved their quality of life.
According to researchers, this may have been due to the ointment's fatty acids and the anti-inflammatory effects of CBD. However, research on a larger human population is still necessary to know.
Skin Dryness and Itch Relief
According to a review posted in the American Academy of Dermatology, CBD creams may reduce normal redness and mild itch in skin diseases, including eczema and psoriasis.
Based on a 2005 study posted in the Journal of the American Academy of Dermatology, CBD shows promise in treating skin itchiness, especially in hemodialysis patients.
Aging Treatment
CBD is a powerful antioxidant that can also stimulate the activity of another antioxidant, thereby making it an ideal addition to anti-aging skincare.
Complexion Enhancing
According to a Journal of Pharmacy and Pharmacology study, CBD has a 10-fold higher transdermal permeability than THC. It remains challenging to produce a topical CBD cream that can penetrate deeply enough to enter the bloodstream. In this case, it will no longer be topical but rather transdermal, possibly reaching the brain. A cream or ointment containing THC can produce psychoactive effects upon application.
A research study on mice and human cells found that CBD may shorten healing times, increase collagen levels, and boost other healing processes, such as cell turnover and regeneration, to reduce acne scars.
Fungal Infection Treatment
The anti-fungal properties of CBD oil are slight. Caryophyllene oxide, a natural antioxidant, enhances the effects of CBD, cannabigerol (CBG), and cannabichromene (CBC). This antioxidant inhibits the growth of fungal spores in humans and cannabis plants. Research also suggests CBD oil's antibacterial properties, specifically its ability to inhibit the growth of staphylococcus aureus, which causes infections of the skin, bones, and heart valves.
Therapeutic Potential for Skin Health and Disorders
This study shows some evidence that CBD has some potential as a treatment for skin health and disorder of several kinds.
Eczema Treatment
In a 2020 observational study, participants reported their symptoms after using CBD cream. More than half of the participants reported improving their eczema by 60%.
Skin Strengthening
In 2014, a study found hemp seed oil beneficial for treating debilitating conditions such as eczema and psoriasis, acne rosacea, and seborrheic dermatitis. According to the study, hemp seed oil strengthens the skin and increases its resistance to bacterial, viral, and fungal infections.
Scar Treatment
An article in La Clinica Terapeutica examined the effects of CBD-enriched ointments on psoriasis and atopic dermatitis scars. They reported significant improvement in the appearance of their skin after applying the ointment twice a day for three months.
Final Thoughts
CBD has been shown to have various benefits for the skin, from reducing dryness and itchiness to helping with acne scars and fungal infections. While more research is needed on a larger human population, these preliminary studies show great promise for CBD as an addition to skincare routines.
There are several types of CBD Topicals you can purchase to add to your skincare routine. Because CBD Lotions have a thin consistency and can be applied to large areas of the body, they are good for overall skin health. Check out the Best CBD lotions we reviewed in 2022 if you are looking for a CBD topical for general skincare.
SOURCES
At CBD CREAM ADVISOR, we're committed to providing you with trustworthy, accessible, and accurate information so you're equipped to choose the right CBD topical for you. We base our content on CBD Studies and reputable medical publications to ensure we're giving you the most accurate information.
CBD Skincare Sources
https://pubmed.ncbi.nlm.nih.gov/30993303/
Palmieri, B., Laurino, C., & Vadalà, M. (2019, April). A therapeutic effect of cbd-enriched ointment in inflammatory skin diseases and cutaneous scars. National Library of Medicine. Retrieved April 5, 2022, from https://pubmed.ncbi.nlm.nih.gov/30993303/
https://jddonline.com/articles/dermatology/S1545961618P0632X%E2%80%8B
Mba, C. M. B. S. J. J. A. K., MD PhD. (2018, June 1). Frequency of Treatment Switching for Spironolactone Compared to Oral Tetracycline-Class Antibiotics for Women With Acne: A Retrospective Cohort Study 2010–2016. JDDonline – Journal of Drugs in Dermatology. https://jddonline.com/articles/dermatology/S1545961618P0632X
https://www.ncbi.nlm.nih.gov/pmc/articles/PMC5877694/
Zou, S., & Kumar, U. (2018, March 19). Cannabinoid Receptors and the Endocannabinoid System: Signaling and Function in the Central Nervous System. National Library of Medicine. Retrieved May 4, 2022, from https://www.ncbi.nlm.nih.gov/pmc/articles/PMC5877694/
https://www.ncbi.nlm.nih.gov/pmc/articles/PMC3931201/
Tabassum, N., & Hamdani, M. (2014, June). Plants used to treat skin diseases. National Library of Medicine. Retrieved April 5, 2022, from https://www.ncbi.nlm.nih.gov/pmc/articles/PMC3931201/
https://www.ncbi.nlm.nih.gov/pmc/articles/PMC4151231/
Oláh, A., et al. (2014, September 2). Cannabidiol exerts sebostatic and antiinflammatory effects on human sebocytes. National Library of Medicine. Retrieved April 5, 2022, from https://www.ncbi.nlm.nih.gov/pmc/articles/PMC4151231/
https://www.clinicaterapeutica.it/2019/170/2/05_PALMIERI-VADALA.pdf
Palmieri, B., Laurino, C., & Vadalà, M. (2019, April). A therapeutic effect of cbd-enriched ointment in inflammatory skin diseases and cutaneous scars. La Clinica Terapeutica. Retrieved April 5, 2022, from https://www.clinicaterapeutica.it/2019/170/2/05_PALMIERI-VADALA.pdf
https://www.ncbi.nlm.nih.gov/pmc/articles/PMC4740396/
Andre, C., Hausman, J. F., & Guerriero, G. (2016, February 4). Cannabis sativa: The Plant of the Thousand and One Molecules. National Library of Medicine. Retrieved April 5, 2022, from https://www.ncbi.nlm.nih.gov/pmc/articles/PMC4740396/
https://pubmed.ncbi.nlm.nih.gov/30993303/
Palmieri, B., Laurino, C., & Vadalà, M. (2019, April). A therapeutic effect of cbd-enriched ointment in inflammatory skin diseases and cutaneous scars. La Clinica Terapeutica. Retrieved April 5, 2022, from https://www.clinicaterapeutica.it/2019/170/2/05_PALMIERI-VADALA.pdf
https://www.sciencedirect.com/science/article/pii/S0190962217303080
Mounessa, J., Dunnick, C., & Dellavalle, R. (2017, April 14). The role of cannabinoids in dermatology. ScienceDirect. Retrieved April 5, 2022, from https://www.sciencedirect.com/science/article/abs/pii/S0190962217303080
https://www.jaad.org/article/S0190-9622(17)30308-0/fulltext
Mounessa, J., Dunnick, C., & Dellavalle, R. (2017, April 14). The role of cannabinoids in dermatology. Journal of the American Academy of Dermatology. Retrieved April 5, 2022, from https://www.jaad.org/article/S0190-9622(17)30308-0/fulltext
https://pubmed.ncbi.nlm.nih.gov/31382646/
Jastrząb, A., Gęgotek, A., & Skrzydlewska, E. (2019, August 3). Cannabidiol Regulates the Expression of Keratinocyte Proteins Involved in the Inflammation Process through Transcriptional Regulation. National Library of Medicine. Retrieved April 5, 2022, from https://pubmed.ncbi.nlm.nih.gov/31382646//
https://pubmed.ncbi.nlm.nih.gov/31318364/
Hacke, A. C. M., et al. (2019, August 5). Probing the antioxidant activity of Δ 9-tetrahydrocannabinol and cannabidiol in Cannabis sativa extracts. National Library of Medicine. Retrieved April 5, 2022, from https://pubmed.ncbi.nlm.nih.gov/31318364/
https://www.ncbi.nlm.nih.gov/pubmed/15025853
Stinchcomb, A., Valiveti, S., Hammell, D., & Ramsey, D. (2004, March). Human skin permeation of Delta8-tetrahydrocannabinol, cannabidiol and cannabinol. National Library of Medicine. Retrieved April 5, 2022, from https://pubmed.ncbi.nlm.nih.gov/15025853/
https://www.ncbi.nlm.nih.gov/pmc/articles/PMC7023045/
Atalay, S., Karpowicz, I., & Skrzydlewska, E. (2019, December 25). Antioxidative and Anti-Inflammatory Properties of Cannabidiol. National Library of Medicine. Retrieved April 5, 2022, from https://www.ncbi.nlm.nih.gov/pmc/articles/PMC7023045/
https://www.ncbi.nlm.nih.gov/pmc/articles/PMC6154611/
Mikulcová, V., Kašpárková, V., Humpolíček, P., & Buňková, L. (2017, May). Formulation, Characterization and Properties of Hemp Seed Oil and Its Emulsions. National Library of Medicine. Retrieved May 4, 2022, from https://www.ncbi.nlm.nih.gov/pmc/articles/PMC6154611/
https://www.ncbi.nlm.nih.gov/pmc/articles/PMC7736837/
Baswan, S., Klosner, A., Glynn, K., Rajgopal, A., Malik, K., Yim, S., & Stern, N. (2020, December 8). Therapeutic Potential of Cannabidiol (CBD) for Skin Health and Disorders. National Library of Medicine. Retrieved May 4, 2022, from https://www.ncbi.nlm.nih.gov/pmc/articles/PMC7736837/
https://jddonline.com/articles/an-observational-study-of-the-application-of-a-topical-cannabinoid-gel-on-sensitive-dry-skin-S1545961620P1204X/
Maghfour, R. H. A. J. R. B. S., MD MD. (2020, November 24). An Observational Study of the Application of a Topical Cannabinoid Gel on Sensitive Dry Skin. JDDonline – Journal of Drugs in Dermatology. https://jddonline.com/articles/an-observational-study-of-the-application-of-a-topical-cannabinoid-gel-on-sensitive-dry-skin-S1545961620P1204X/
http://www.phcogrev.com/article/2014/8/15/1041030973-7847125531/
Tabassum, N. (2014). Plants used to Treat Skin Diseases | Pharmacognosy Reviews. Pharmacognosy Reviews. Retrieved May 4, 2022, from http://www.phcogrev.com/article/2014/8/15/1041030973-7847125531/
https://www.cannabis-med.org/studies/study.php
Multiple Studies
http://www.clinicaterapeutica.it/ojs/index.php/index/login?source=%2Fojs%2Findex.php%2FClinicaTerapeutica%2Farticle%2Fview%2F377
CBD Pain Relief Sources
https://www.ncbi.nlm.nih.gov/pmc/articles/PMC4851925/
Hammell, D. C., Zhang, L. P., Ma, F., Abshire, S. M., McIlwrath, S. L., Stinchcomb, A. L., & Westlund, K. N. (2015, October 30). Transdermal cannabidiol reduces inflammation and pain-related behaviours in a rat model of arthritis. National Library of Medicine. Retrieved May 4, 2022, from https://www.ncbi.nlm.nih.gov/pmc/articles/PMC4851925/
https://www.eurekaselect.com/177080/article
Xu, D. H. (n.d.). The Effectiveness of Topical Cannabidiol Oil in Symptomatic Relief of Peripheral Neuropathy of the Lower Extremities. Bentham Science. Retrieved May 4, 2022, from https://www.eurekaselect.com/article/102689
https://www.ncbi.nlm.nih.gov/labs/pmc/articles/PMC6912397/
Buchta, A. N., Wachol, A. N., Wachol, K., Dragon, K. W., Olczyk, P., Batoryna, O., Kempa, W., & Baron, S. (2019, November 6). Myorelaxant Effect of Transdermal Cannabidiol Application in Patients with TMD: A Randomized, Double-Blind Trial. National Library of Medicine. Retrieved May 4, 2022, from https://www.ncbi.nlm.nih.gov/pmc/articles/PMC6912397/
https://journals.sagepub.com/doi/10.1177/1049909119900378
Highet, B. H., Lesser, E. R., Johnson, P. W., & Kaur, J. S. (2020). Tetrahydrocannabinol and Cannabidiol Use in an Outpatient Palliative Medicine Population. American Journal of Hospice and Palliative Medicine®, 37(8), 589–593. https://doi.org/10.1177/1049909119900378
https://doi.org/10.3389/fphar.2018.01259
Vučković, S. (2018b). Cannabinoids and Pain: New Insights From Old Molecules. Frontiers. Retrieved May 4, 2022, from https://www.frontiersin.org/articles/10.3389/fphar.2018.01259/full
https://www.frontiersin.org/articles/10.3389/fphar.2018.01259/full
Vučković, S. (2018). Cannabinoids and Pain: New Insights From Old Molecules. Frontiers. Retrieved May 4, 2022, from https://www.frontiersin.org/articles/10.3389/fphar.2018.01259/full
https://www.health.harvard.edu/blog/cannabidiol-cbd-what-we-know-and-what-we-dont-2018082414476
Grinspoon, P., MD. (2021, September 24). Cannabidiol (CBD)-what we know and what we don't. Harvard Health. https://www.health.harvard.edu/blog/cannabidiol-cbd-what-we-know-and-what-we-dont-2018082414476
https://www.ncbi.nlm.nih.gov/pmc/articles/PMC7023045/
Atalay, S., Karpowicz, I., & Skrzydlewska, E. (2019, December 25). Antioxidative and Anti-Inflammatory Properties of Cannabidiol. National Library of Medicine. Retrieved April 5, 2022, from https://www.ncbi.nlm.nih.gov/pmc/articles/PMC7023045/
https://www.ncbi.nlm.nih.gov/pmc/articles/PMC3371734/
Xiong, W., Cui, T., Cheng, K., Yang, F., Chen, S. R., Willenbring, D., Guan, Y., Pan, H. L., Ren, K., Xu, Y., & Zhang, L. (2012, June 4). Cannabinoids suppress inflammatory and neuropathic pain by targeting α3 glycine receptors. National Library of Medicine. Retrieved May 4, 2022, from https://www.ncbi.nlm.nih.gov/pmc/articles/PMC3371734/
https://www.ncbi.nlm.nih.gov/pmc/articles/PMC6222489/
Bruni, N., della Pepa, C., Bosso, S. O., Pessione, E., Gastaldi, D., & Dosio, F. (2018, September 27). Cannabinoid Delivery Systems for Pain and Inflammation Treatment. National Library of Medicine. Retrieved May 4, 2022, from https://www.ncbi.nlm.nih.gov/pmc/articles/PMC6222489/
https://pubmed.ncbi.nlm.nih.gov/25061872/
Oláh, A., et al. (2014, September 2). Cannabidiol exerts sebostatic and antiinflammatory effects on human sebocytes. National Library of Medicine. Retrieved April 5, 2022, from https://www.ncbi.nlm.nih.gov/pmc/articles/PMC4151231/
https://www.aad.org/news/topical-cannabis
Public, researchers demonstrate growing interest in cannabis treatment. (n.d.). American Academy of Dermatology Association. Retrieved May 4, 2022, from https://www.aad.org/news/topical-cannabis
https://www.ncbi.nlm.nih.gov/pmc/articles/PMC7700528/
Mlost, J., Bryk, M., & Starowicz, K. (2020, November 21). Cannabidiol for Pain Treatment: Focus on Pharmacology and Mechanism of Action. National Library of Medicine. Retrieved May 4, 2022, from https://www.ncbi.nlm.nih.gov/pmc/articles/PMC7700528/
https://www.ncbi.nlm.nih.gov/pmc/articles/PMC5877694/
Zou, S., & Kumar, U. (2018, March 19). Cannabinoid Receptors and the Endocannabinoid System: Signaling and Function in the Central Nervous System. National Library of Medicine. Retrieved May 4, 2022, from https://www.ncbi.nlm.nih.gov/pmc/articles/PMC5877694/
https://www.ncbi.nlm.nih.gov/pmc/articles/PMC6043845/
https://pubmed.ncbi.nlm.nih.gov/16324422/
Szepietowski, J. C., Szepietowski, T., & Reich, A. (2005). Efficacy and tolerance of the cream containing structured physiological lipids with endocannabinoids in the treatment of uremic pruritus: a preliminary study. National Library of Medicine. Retrieved May 4, 2022, from https://pubmed.ncbi.nlm.nih.gov/16324422/
https://www.nature.com/articles/s41598-019-44056-y
Mascal, M. (2019, May 23). Synthetic, non-intoxicating 8,9-dihydrocannabidiol for the mitigation of seizures. Nature. Retrieved May 4, 2022, from https://www.nature.com/articles/s41598-019-44056-y?error=cookies_not_supported&code=f4456522-2267-4fe6-8deb-257c613266d3
https://www.nccih.nih.gov/health/cannabis-marijuana-and-cannabinoids-what-you-need-to-know
Cannabis (Marijuana) and Cannabinoids: What You Need To Know. (n.d.). NCCIH. Retrieved May 4, 2022, from https://www.nccih.nih.gov/health/cannabis-marijuana-and-cannabinoids-what-you-need-to-know
https://www.ncbi.nlm.nih.gov/pmc/articles/PMC6065210/
Gamble, L. J., Boesch, J. M., Frye, C. W., Schwark, W. S., Mann, S., Wolfe, L., Brown, H., Berthelsen, E. S., & Wakshlag, J. J. (2018, July 23). Pharmacokinetics, Safety, and Clinical Efficacy of Cannabidiol Treatment in Osteoarthritic Dogs. National Library of Medicine. Retrieved May 4, 2022, from https://www.ncbi.nlm.nih.gov/pmc/articles/PMC6065210/
https://www.ncbi.nlm.nih.gov/pmc/articles/PMC7092763/
Larsena, C., & Shahinasa, J. (2020, March 2). Dosage, Efficacy and Safety of Cannabidiol Administration in Adults: A Systematic Review of Human Trials. National Library of Medicine. Retrieved May 4, 2022, from https://www.ncbi.nlm.nih.gov/pmc/articles/PMC7092763/
https://clinicaltrials.gov/ct2/show/NCT05023070
Hurd, Y. (2021, September 26). Investigation of the Pharmacokinetic Profile of CBD. ClinicalTrials.Gov. Retrieved May 4, 2022, from https://clinicaltrials.gov/ct2/show/NCT05023070
https://clinicaltrials.gov/ct2/show/NCT04831294
Robinson, J. L. (2021, April 5). Effects of Cannabidiol (CBD) on the Brain (CBD). ClinicalTrials.Gov. Retrieved May 4, 2022, from https://clinicaltrials.gov/ct2/show/NCT04831294