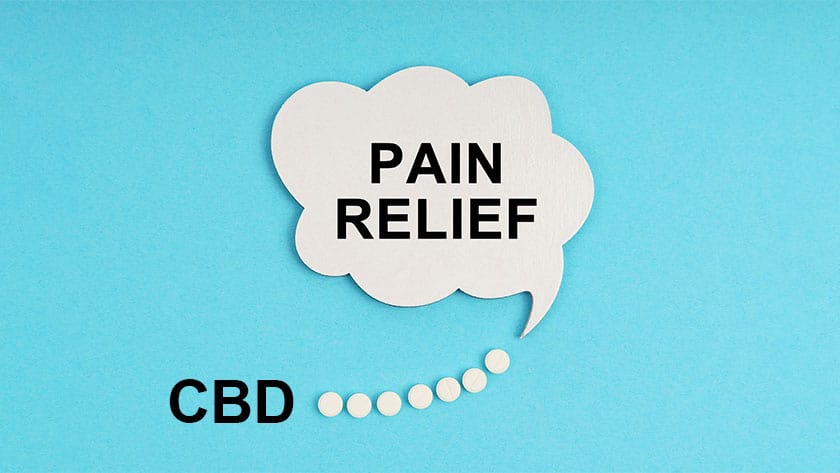 CBD users boast about its effectiveness when it comes to pain relief, but there is limited research or clinical trials on the effectiveness of CBD in treating and managing pain. Despite the lack of research and studies to date, the ones that have been completed are very promising.

The following is a collection of CBD pain relief studies for you to check out before buying a CBD topical product as a treatment for aches and pains.
Inflammation
The anti-inflammatory properties of CBD have been explored extensively in scientific studies. People who use CBD cream for pain find that it effectively addresses inflammation, discomfort, etc.
In an older study, CBD reduced pain in the body. Several recent studies have proven the potential of CBD for this condition.
Despite still being early in the research process, there are plenty of promising results regarding CBD topicals and pain. A 2018 study organized at the University of Turin in Italy found that CBD topicals reduced inflammation without psychoactive effects on the high-brain centers.
It reduces inflammation and pain without making one feel tired or zoned out, so people take CBD. Previous studies have noted that CBD is also widely used by arthritis patients.
Arthritis-Related Pain
CBD has shown its capability to treat arthritis-related pain. For example, in a 2016 study, researchers proved that a topical CBD cream significantly reduced inflammation and pain associated with arthritis and swelling.
Nerve pain
In a small study conducted in 2020, researchers examined CBD oil for its pain-relieving properties. The study participants reported less pain as a result of nerve damage. However, according to their descriptions, they also felt sharp, intense, cold, and itchy pains.
Jaw pain
A study conducted in 2019 examined how topical CBD may provide relief for a specific type of facial pain affecting the jaw. The study found that people using topical CBD about twice a day experienced significantly less pain after two weeks.
Palliative Care Pain
According to another study from 2020, some patients in palliative care use THC or CBD regularly, and topical products, in particular, help reduce pain.
Chronic Pain
Researchers assessed CBD's effectiveness in treating chronic pain in 2018. This review examined studies conducted from 1975 to March 2018. Numerous types of pain were examined in these studies, including cancer pain, neuropathic pain, and fibromyalgia. These studies showed that CBD worked well to relieve pain and had no adverse side effects.
Even though CBD has been used to treat pain for years, more formalized early research suggests it can help to reduce pain in more specific ways for those with more chronic pain.
Acne
While hormones mainly cause acne, CBD fights the inflammation and redness associated with acne and helps normalize the skin.
CBD may help some skin conditions by reducing inflammation. The American Academy of Dermatology states that these conditions include eczema, acne, and psoriasis.
Pain Symptoms
A comprehensive review of clinical trials and animal studies in 2020 suggested that CBD may alleviate pain symptoms.
There has been evidence that CBD may ease pain associated with neuropathic, inflammatory, and arthritis conditions in animals. It has analgesic, or pain-relieving, effects when CBD is taken orally, as an injection, or as a gel.
In humans, CBD gel may also reduce pain and itchiness. However, most clinical trials assess CBD's effects when combined with THC, the psychoactive component of cannabis. CBD combined with THC can ease pain, improve sleep quality, and reduce fatigue and insomnia.
The body's endocannabinoid system can work with CBD products to bring about balance or homeostasis. CBD products are highly effective at calming pain, reducing inflammation, alleviating insomnia, relieving anxiety and depression, and helping many other complicated health problems.
The effectiveness of CBD has been proven time and time again for various health issues. This study shows the effectiveness of CBD products in several health issues.
Itching
CBD can help chronic, treatment-resistant itching as it blocks the itching in the nerve endings.
Seizures
According to the most significant research, CBD oil is beneficial to those suffering from seizures. The FDA approved a CBD oral solution called Epidiolex in 2018 to help people with Lennox-Gastaut syndrome or Dravet syndrome, two rare forms of epilepsy. According to scientists, CBD oil suppresses seizures by slowing the transmission of messages to the brain, changing calcium levels in the brain, and reducing inflammation in the brain.
Certain types of epilepsy, nausea, and vomiting due to cancer chemotherapy, and HIV-related weight loss and appetite loss may be alleviated by cannabinoids. Furthermore, some evidence suggests that cannabis or cannabinoids may help treat chronic pain and multiple sclerosis symptoms. Cannabis does not help treat glaucoma. Cannabinoids and cannabis are still in the early stages of research for other conditions.
Osteoarthritis
Other potential uses of CBD oil have also been demonstrated in animal studies. According to research, dogs with osteoarthritis treated with CBD oil were more active and had less pain. Likewise, humans could benefit from CBD oil for treating pain and inflammation.
Treatment for Somatic and Psychiatric Disorders
Based on in vitro and in vivo studies, cannabidiol (CBD) appears promising to treat both somatic and psychiatric ailments.
Craving Reduction
This study aims to analyze a new CBD formulation and help develop non-opioid and non-intoxicating medications to reduce cravings and relapses in patients with opioid use disorders.
Insomnia and Anxiety
One of the 113 cannabinoids you see in cannabis, CBD, is a phytocannabinoid. Hemp-derived CBD is used to treat anxiety, insomnia, and pain. Cannabis typically produces a high, but CBD does not. Therefore, CBD is a critical component of medical marijuana.