AFFILIATE DISCLOSURE: If you buy through the links on this page, CBD Cream Advisor DOES NOT earn an affiliate commission. CBD companies cannot buy influence over how we rate their CBD Topicals. Learn how we earn and how our unbiased review process of over 180+ CBD topicals works.
BASKiN offers a line of superior CBD creams using the patented Invisicare Technology that keeps the creams bonded to the skin. According to the company, the creams deliver CBD to the body and skin more effectively due to this technology. BASKiN claims that their creams are free of organic solvents, waxes, parabens, and alcohol. The sports recovery, skin relief, and body wellness creams created by BASKiN let the skin breathe and retain its natural moisture. These creams can be applied directly on the affected temples, back of neck, feet, behind knees, and inner wrist for maximum effect.
Baskin Brand Reputation
Baskin the company that makes CBD Body Wellness Cream has been selling cbd cream since 2016. FDA has not issued any warning letters to Baskin. Buying CBD Body Wellness Cream from Baskin has a money back guarantee.
Brand Reputation of Baskin
Company Name
BASKIN
Year Established
2016
Reputation
1 customer review
Lab testing
Tested by DB Labs
COA (Certificate of Analysis )
Yes
FDA Approved
No
Guarantee & Deliverability of Baskin
Refund Policy
No refund policy
Ships From
US
Ships To
US
Delivery
2 business days
Review Highlights: Baskin Cream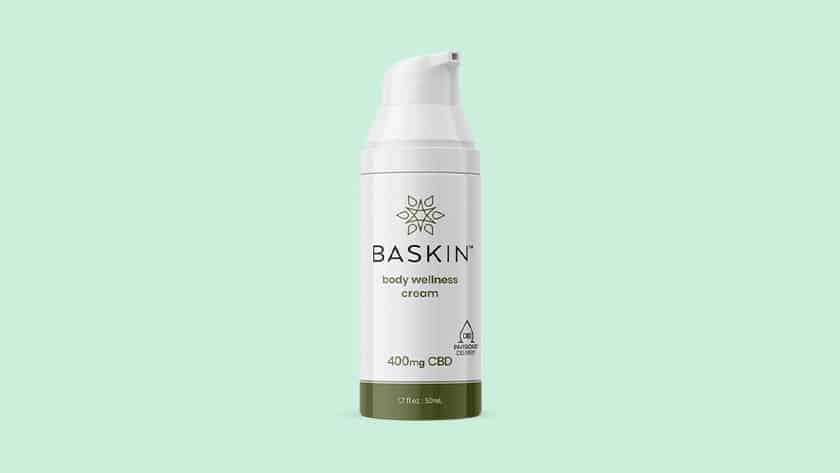 Quantity of Baskin CBD Cream
Amount of CBD in Jar
1.7oz
Percentage of CBD in Jar
8%
Percentage of Other ingredients
91.7%
Percentage of THC in Jar
less than 0.3%
Cost Breakdown of Baskin CBD Cream
CBD Product Price
$54.99
Jar Size
1.7oz
Cost of CBD per Milliliter
$0.14 per ml
Product Characteristics of Baskin CBD Cream
Scent
Citric
Hemp source
US
(CBD) Strength
400mg
Texture
Medium
Decision Making Factors
| Key Factors of Baskin Cream | Our Rating |
| --- | --- |
| CBD Strength | AVERAGE |
| CBD Quality | VERY GOOD |
| Independently Tested | EXCELLENT |
| For Pain | AVERAGE |
| For Skin Conditions | GOOD |
| For General Skin Care | VERY GOOD |
| Guarantee | POOR |
| Value For Money | GOOD |
Full Review
BASKiN CBD Body Wellness Cream contains 400 MG of CBD and almost 7 MG of CBD per pump. The company claims that the cream bonds CBD to the skin and resists rubbing or washing off. This cream contains allantoin and coconut oil that provides absolute moisturizing. The company suggests direct application on the skin to experience localized relief. It also claims that the cream affects the whole body. Eighty percent of CBD infused in the cream enters the bloodstream, offering more potent and more prolonged relief from pain.
Findings: Baskin CBD Cream
Potency
This wellness cream is available in two strengths: 235 MG and 400 MG.
Hemp Cultivation
The cream is made using broad-spectrum hemp.
Smell
The cream has a pleasant citric scent that is not too concentrated.
Customer Ratings
The cream has 1 review on the official website with an average rating of 5 out of 5.
Cost
One bottle of 50 ml cream is priced at $54.99 on the company website.
One bottle of the 30 ml cream is priced at$32.99 on the company website.
Independent Testing
The body wellness cream is independently tested for potency and purity by third-party labs.
Ingredients
The BASKIN Body Wellness Cream contains Disodium EDTA, A-Tocopherol (Vitamin E), CBD, Cetyl Alcohol, Ethylhexylglycerin, and Phenoxyethanol. It is infused with Limonene, Poloxamer 182, Carbomer, Caprylic/Capric Triglyceride, and Triethanolamine. The cream also contains Poloxamer 237, Sorbitan Monolaurate, Oleic Acid, PVM/MA Copolymer – VP / Hexadecene Copolymer-VP/Eicosene Copolymer, and Deionized Water.
How to Apply Baskin CBD Cream?
Press the metered airless pump.
Squeeze out a desired amount of the cream.
Apply and spread the cream on the back of the neck, knees, inside the feet' arm and bottom.
Repeat the application process two times a day if the pain persists.
What does the 3rd Party Testing & Lab Results Reveal?
The company gets the products tested by DB Labs.
The batch number of the product could be tested on the manufacturer's website.
The cream passes the US and European limits for THC with less than 0.3 percent THC.
Company Details
About BASKIN
BASKiN is a health and wellness company headquartered in San Diego, California, USA. The company makes transdermal CBD cream harnessing the power of hemp-derived cannabinoids and packs them into the products. The BASKiN creams can be purchased online, and the company delivers them to all 50 states in the USA. Visit: https://www.baskincbd.com/pages/contact.
Location
The company is headquartered in San Diego, California, USA.
Guarantee
The company offers no money-back guarantee.
CBD Extraction Method
There is no information available about the extraction process on the company website. However, to find out, send a message on the Contact US page: https://www.baskincbd.com/pages/contact.
Quality of Customer Support
Customers can contact customer care through the Contact Us page: https://www.baskincbd.com/pages/contact.
Shipping Options
The company ships orders within two business days with the Expedited or the US Postal service in the US.