AFFILIATE DISCLOSURE: If you buy through the links on this page, CBD Cream Advisor DOES NOT earn an affiliate commission. CBD companies cannot buy influence over how we rate their CBD Topicals. Learn how we earn and how our unbiased review process of over 180+ CBD topicals works.
CBD American Shaman Brand Reputation
CBD American Shaman the brand that makes CBD Body Lotion has been manufacturing cbd lotion since 2015. The Food and Drug Administration (FDA) has not issued any warning letters to CBD American Shaman. If you are unhappy with CBD Body Lotion, CBD American Shaman will refund your money.
Brand Reputation of CBD American Shaman
Company Name
CBD American Shaman
Year Established
2015
Reputation
170 customer reviews
Lab testing
Tested by Green Scientific Labs
COA (Certificate of Analysis )
Yes
FDA Approved
No
Guarantee & Deliverability of CBD American Shaman
Refund Policy
45 days
Ships From
US
Ships To
US
Delivery
No information
Review Highlights: CBD American Shaman Lotion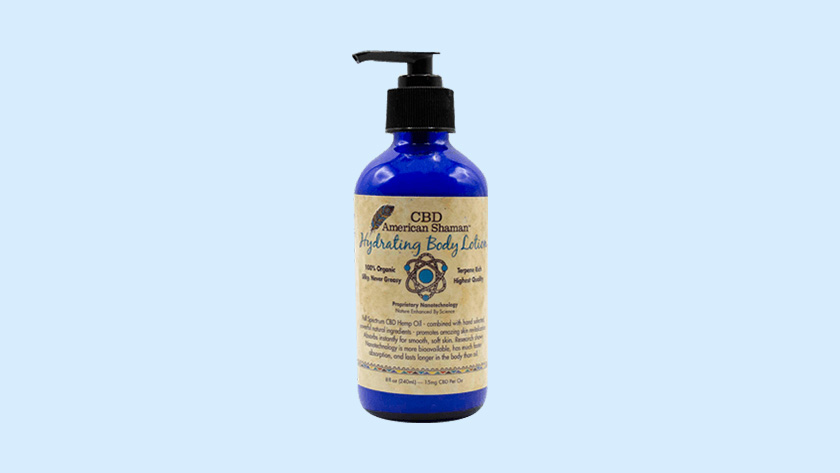 Quantity of CBD CBD American Shaman Hydrating Body Lotion
Amount of CBD in Jar
8oz & 2oz
Percentage of CBD in Jar
0.51%
Percentage of Other ingredients
99.19%
Percentage of THC in Jar
less than 0.3%
Cost Breakdown of CBD American Shaman Hydrating Body Lotion
CBD Product Price
$40.00 & $10.00
Jar Size
8oz & 2oz
Cost of CBD per Milliliter
$0.33 per ml
Product Characteristics of CBD American Shaman Hydrating Body Lotion
Scent
Lavender
Hemp source
US
(CBD) Strength
120mg & 30mg
Texture
Medium
Decision Making Factors
American Shaman CBD Lotion takes the sixth spot in our best CBD lotions category
| Key Factors of CBD American Shaman Hydrating Body Lotion | Rating |
| --- | --- |
| CBD Strength | AVERAGE |
| CBD Quality | VERY GOOD |
| Independently Tested | EXCELLENT |
| For Pain | AVERAGE |
| For Skin Conditions | GOOD |
| For General Skin Care | GOOD |
| Guarantee | VERY GOOD |
| Value For Money | GOOD |
Full Review
The hydrating body lotion is a nongreasy cream that is said to revitalize and rejuvenate the skin. It makes the skin soft, smooth, and supple when used regularly. The lotion comes in a blue bottle with an easy-to-use pump. The lotion also comes in a smaller, travel-friendly size with a round, snap-open lid.
Made using nourishing oils, the lotion hydrates and moisturizes the skin. The lotion is gluten-free, eco-friendly, and cruelty-free. It contains less than 0.3% THC. The CBD extracted from high-quality industrial hemp. The company uses its proprietary nanotechnology that makes the products 9x times bioavailable compared to other CBD products in the market. The company claims that this makes the products more effective as they can be easily absorbed by the body.
Findings: CBD Hydrating Body Lotion
Potency
This CBD topical lotion contains 15mg CBD per ounce. The 8 fl oz (240ml) contains 120mg CBD. The travel size bottle with 2 fl oz (60ml) contains 30mg CBD.
Hemp Cultivation
The lotion is made using full spectrum CBD oil extracted from high-quality US grown hemp.
Smell
The lotion has a lavender scent.
Customer Ratings
There are 170 customer reviews on the company website. 147 customers rated it 5 stars, 16 customers rated it 4 stars, and 7 customers rated it 3 stars.
Cost
The bottle with 120mg CBD is priced at $40 (for 8 fl oz).
The bottle with 30mg CBD is priced at $10 (for 2 fl oz).
Independent Testing
The cream has been tested by an independent third-party lab.
Ingredients
The lotion is made using full spectrum CBD extract, shea butter, cocoa butter, shea oil, cocoa oil, apricot oil, coconut oil, grape oil, avocado oil, sweet almond oil, lavender oil, vitamin A, D, & E oils, MCT oil, aloe vera, sunflower oil, olive oil, water, pumpkin oil, and other ingredients to nourish, moisturize, and hydrate the skin.
How to Apply CBD Hydrating Body Lotion??
Take a quarter-sized drop of the lotion
Gently rub it onto the skin
The lotion gives better results when used after a bath
Pat dry yourself and apply the lotion
Meant for external use only
Do not use on children less than 18 years of age
Consult a physician before using if pregnant or nursing
Use daily
What does the 3rd Party Testing & Lab Results Reveal?
The company gets the products tested by Green Scientific Labs.
We can find the lab reports for different batch numbers of the products on the manufacturer's website.
The products pass the US and European limits for THC. Some products have less than 0.3% THC, and others are THC-free.
Find the lab reports here:
https://cbdamericanshaman.com/lab-reports
Enter the batch number in the search box.
Company Details
About CBD American Shaman
CBD American Shaman manufactures and sells various CBD products in all the 50 states of the US. The products are available through the company website and retail stores. The headquarters is located in Kansas City, Missouri. Contact: https://cbdamericanshaman.com/contact
Location
The company headquarters is located at 2405 Southwest Blvd., Kansas City, Missouri 64108.
Guarantee
The company has a 45-day money-back guarantee policy. This is applicable to customers who buy through the website. Customers who purchase through the franchise have 30 days to return the products along with the original receipt.
CBD Extraction Method
The company uses the CO2 extraction method to extract CBD from hemp. It then uses Nanotechnology to make the products 9x times more bioavailable for faster results.
Quality of Customer Support
Customers can contact customer support via phone and the contact us page on the company website.
Shipping Options
The company sells the products through the website and retail stores across the US. Customers can visit the store locator page to find a store in their region. The company has a special Compassionate Care Program through which low-income customers, veterans, and people with disabilities can get the products for a discounted price. Customers who wish to be a part of the program are asked to submit their application for the same. Find more details here: https://cbdamericanshaman.com/compassionate-care